5 Tips for Creating Engaging Webinars
Topics Covered:
Staying cooped up at home during COVID-19 gave many of us more time to play virtual board games, try your hand at baking, or learn a new language. Though you've probably stopped nurturing your sourdough starter by now, some pandemic-related trends are still very much alive — including digital hangouts. 
From Zoom happy hours to online webinars, virtual events remove the physical barriers that typically prevent attendance and widespread access. But with the influx of on-demand content, how can brands create engaging webinars that are genuinely worth attendees' time? 
That's what we're unpacking in this post: Here are five quick tips for creating engaging webinars to build brand awareness and drive sales.
1. Use Interactive Tools
Just because you're hosting a webinar doesn't mean you should present with a dull-looking Powerpoint. There are numerous new, interactive tools and platforms that allow you to deliver two-way communication with your audience via real-time polls and Q&As. Some tools even permit moderators to approve or dismiss questions before they are displayed to all participants.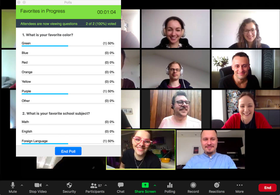 Engaging elements encourage your audience to not just quietly watch your webinar but also actively participate in it. Consider this a must-have for brands looking to provide a valuable experience beyond providing helpful, informative content. 
2. Ask Participants to Submit Pre-Event Questions
If you're feeling stuck and unsure of what to cover during your webinar, consider asking participants what questions they would like answered. Not only will this instill a sense of commitment for your attendees, but it will also provide direct insight into what topics your webinar should address. 
3. Reward Attendees
Be sure to follow up with attendees after your webinar — it's a fantastic opportunity to offer them more value and keep them engaged. Beyond thanking them for their time, consider providing a small token of appreciation. You can:
Email them a link to the recorded webinar and encourage them to share it with their team. 

Share exclusive links to relevant or follow-up content, such as worksheets they can fill out using the information they've learned from the webinar. 

Provide a special discount for relevant products. 

Create a certificate of completion (if your webinar is a professional-related training).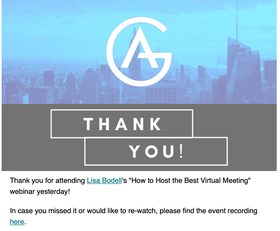 Pro tip: If you do offer incentives, make sure to include them in your pre-event promotional materials to attract attendance. 
4. Provide Great Content
This may seem obvious, but it's worth noting: Make sure you're providing genuinely helpful and insightful content in your webinar. As an attendee, there's nothing worse than blocking out an hour in your busy schedule only to receive a rehash of information you already know — or worse, a thinly-veiled sales pitch. 
The first step to creating engaging webinar content is understanding your audience. Keep in mind that this may be different for each webinar you host. How familiar are they with the topic you're presenting? Are they existing customers or people unfamiliar with your brand? Are they novices or experts in their field? As we mentioned above, a pre-event questionnaire is a great way to obtain these insights. 
5. Ask for Feedback
The best way to improve your webinars? By gathering feedback from attendees of previous ones. When designing your post-event survey, go beyond the simple yes or no questions. 
Instead, ask them to elaborate on what worked, what they wish you could have done differently, and what they hoped you would cover but didn't. 
You're Ready to Start Zooming
Whether you opt for Zoom, Google Meet, or one of the many other webinar platforms available to brands, make sure you bookmark these tips for creating engaging webinars. 
For more ideas and strategies on how to create fantastic digital experiences for your customers, we've got you covered at the AdRoll Marketing Resource Library. If you're a fan of learning via watching, our YouTube channel has all the recordings of our past webinars — with topics ranging from building a UTM strategy to setting up retargeting campaigns.
Last updated on February 23rd, 2022.