Marketing Lessons from Romantic Comedies
Topics Covered:
You know the trope around romantic comedies — "unserious," "cheesy," and "clichéd." However, according to Aja Romano, Internet Culture Reporter at Vox, "their predictability is a huge part of their appeal." And that's exactly why romcoms are my favorite genre — they make me feel hopeful for a fairy tale future that may only exist in stories and films. But between the meet-cutes, classic misunderstandings and guy-chases-girl-to-the-airport scenes, I've realized that there are a lot of marketing lessons that can be taken away from these feel-good movies. 
Let's explore some of my favorite romcoms and the marketing lessons that come with them. 
13 Going on 30
Have you ever noticed that there are a select few careers that are dominant in romcoms? To name a few: Architects (ex. Joseph Gordon-Levitt from 500 Days of Summer), ad executives (ex. Matthew McConaughey from How to Lose a Guy in 10 Days), journalists (ex. Drew Barrymore in Never Been Kissed), and anything that ties into the fashion or marketing industry. While this might seem repetitive, as a marketer myself, I'm not complaining — because of this, there are certain career lessons that can be had. 
For instance, let's shine a spotlight on 13 Going on 30. Jennifer Garner's character, Jenna Rink, is a powerhouse magazine editor who struggles to make an on-the-brink-of-death fashion magazine relevant again. The magazine, called Poise, isn't doing so hot because a competitor is one-upping their content and celebrity features. 
After some self-discovery (thanks to a delightfully disheveled Mark Ruffalo), and the realization that the fashion industry isn't all it's cracked up to be, Jenna decides to completely redesign Poise. Whereas other fashion magazines exclusively star cutting-edge models and celebrities, Jenna decides to feature "real women who are smart and pretty and happy to be who they are." She makes a case that these are "the women to look up to" because they're relatable to Poise's core audience.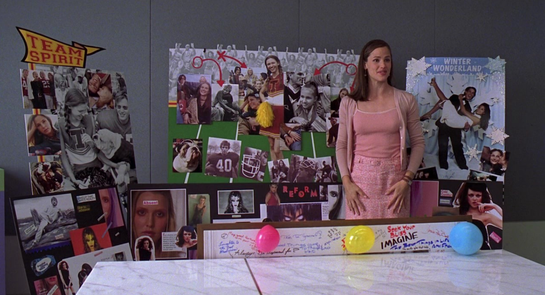 Jenna's idea was a huge hit because it focuses on the customer. It answers the question, "What do the readers want?" and spins a new angle on what fashion should look like — a world that isn't centered around size 0 women.
In the real marketing world, businesses have to engage in customer marketing to maximize revenue from your core customer base. This helps build customer retention, loyalty-building, advocacy, and community.
The Devil Wears Prada
If we're talking about fashion, we can't let this movie slip through the cracks. Let's break these marketing lessons down by quotes, shall we?
Florals? For spring? Groundbreaking.
This is what Miranda Priestly, famed editor-in-chief of Runway Magazine, utters when someone suggested florals for a spring feature. When it comes to marketing, it's essential to think and strategize outside of the box. Whether that means providing limited-edition products, discounts, or simply out-of-this-world customer service, you need to be able to offer something that stands out from the competition.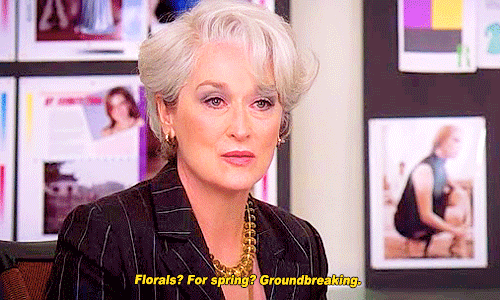 By all means, move at a glacial pace. You know how that thrills me.
In this day and age, customers expect to get what they want, when they want it. This is particularly true when it comes to customer service. Nothing is more frustrating than being put on hold on or waiting weeks for an email back. And it's not just phones and emails, either — social media platforms have also evolved to be one of the top ways customers use to communicate with companies. Rule of thumb: Don't take longer than 24 hours to respond to customers' comments or complaints.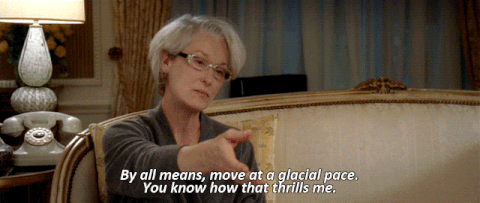 Crazy, Stupid, Love 
In this movie, Steve Carrell's character, Cal Weaver, goes through a mid-life crisis after his wife cheats on him. Cal is the quintessential dad: He wears polos, khaki trousers, and the same 407 trainers, over and over again. Then, he meets Jacob (played by a dashing Ryan Gosling), who's basically his opposite: a debonair playboy who dresses in designer suits complete with pocket squares and sleek shoes. 
When Jacob offers to help Cal "rediscover" himself, the first thing he does is toss away Cal's unstylish 407's and takes him on a designer shopping spree. They go to shops such as Yves Saint Laurent, Alexander McQueen, and Givenchy because, as Jacob sternly puts it, "[You've got to] be better than the Gap."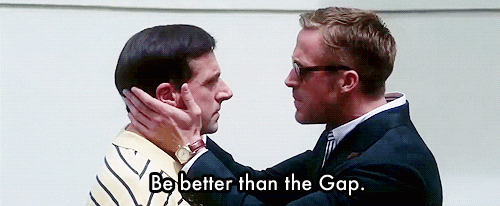 Armed with his newly bought suits, shoes, knitwear, jackets, and jeans — as well as a swaggy confidence that Jacob imparts on him — Cal successfully impresses a gaggle of women, including his wife (and wins her back — duh!). 
This goes to show that it's never too late for a complete rebranding. If you see that your marketing strategies are no longer as effective and that customer engagement is getting stale, it's time for a change-up. Here are a few signs to look out for: 
The needs of your customers have evolved. The rise of technology has changed market habits, so you'll either have to adapt or get left behind.  
You no longer stand out from competitors. With the tidal wave of direct-to-consumer (D2C) brands over the last half-decade, it's easy to get lost in all the noise. If your market is becoming saturated with other companies offering similar products, it's time to consider a transformation.
You aren't attracting top talent. This one's a given — top companies attract top talent. If you're finding that it's getting more and more difficult to fill open roles, it may mean that qualified candidates consider your company mediocre. 
I Feel Pretty
Amy Schumer plays Renee Bennett, a woman with self-esteem issues that keep her from becoming her best self. When she suffers a freak accident in spin class, she wakes up believing that she's suddenly a supermodel. There are a couple of marketing lessons that stand out in this film: 
Don't be shy about promoting yourself. When Renee interviews to work at Lily LeClaire's corporate headquarters as a receptionist, she has zero problems with self-promotion: "Yes, modeling is an option for me — but it's not who I am," she proudly states. It's this palpable confidence that lands her the job and earns her the respect of everyone around her.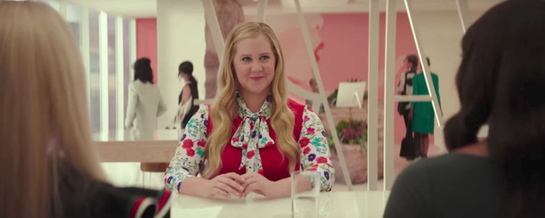 If there's one thing that you can take away from Renee, it's that you shouldn't be afraid to put yourself out there. Pitch yourself as a thought leader in the industry and make appearances in podcasts, webinars, live speaking events — anything that'll help solidify your place as an authority in your field. 
Cater to your target audience. When Lily LeClaire unveils their new diffusion line to cater to the masses, Renee identifies a major oversight — the blushes don't come with application brushes. 
As Renee puts it, if Lily LeClaire wants to sell to bargain shoppers, then they've got to think like bargain shoppers:
...with high-end products, we expect our customers to have high-end makeup brushes. But regular girls put their blush on in the rearview, on the way to their crappy jobs. And they're going to be pissed when they open up an $8.50 blush and they have no way they can use it."
So, what's the lesson here? You have to be sure that your products cater to your target audience. Put yourself in your customers' shoes and be proactive enough to solve issues before they even happen. 
If you had fun reading this post, check out these marketing lessons from the Oscars.
Last updated on September 16th, 2022.