5 Common ERP Integration Questions, Answered
Topics Covered:
As an entrepreneur, scaling an ecommerce brand requires an incredible amount of agility. Not only are you charged with streamlining operations, but you're also at the forefront of new innovations and technologies —  all clamoring for the chance to help you grow your business. 
Whether or not this is your first digital rodeo, you're likely aware that reliable insights and connected data are two of the biggest keys to success in the ecommerce world, unlocking limitless productivity and optimization potential.
Enter ERP, a critical component for any business ready to level up. No idea what we're talking about? We've got you covered with tips and tricks for choosing the right ERP system and integrating with Shopify Plus. 
1. What Does ERP Stand For?
ERP stands for "enterprise resource planning," a process that helps businesses run more efficiently and effectively. But here's where the verbiage gets confusing: ERP also refers to an automation software platform or system that consolidates different parts of your business, from updating inventory to managing financial records to estimating labor shortages.
But an ERP system doesn't just manage these processes — it serves as a database that gathers, stores, and analyzes real-time information from all your different departments, such as marketing, accounting, customer service, and fulfillment, among others. 
If you've said to yourself, "Argh, I wish everyone was on the same page," an ERP system may be your new secret weapon.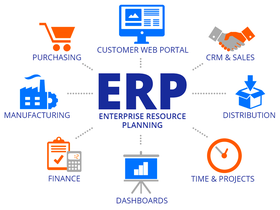 The only potential roadblock to implementing an ERP system is the associated costs. Typically, this kind of platform is reserved for enterprise-level businesses with complex processes.
2. Why Are ERP Integrations Important?
More than 53% of businesses label ERP as an investment priority. Beyond sharing relevant information between departments, here are some additional business intelligence perks that brands can expect:
Data quality and integrity — ERP systems allow companies to easily detect duplicate data and secure company information in one central location 

Workflow tracking — which helps identify friction points in your processes 

A comparison of results to KPIs in real-time — so you can set more accurate benchmarks and company baselines 

Reduced IT costs

A unified analytics location and better financial visibility 

More accurate inventory and sales databases, as well as a boost in supply chain efficiency

Better collaboration between departments

More effective customer service
3. Are There Risks Associated With ERP Systems?
If you've been diligently researching ERPs, you may have come across some horror stories. Dow Chemical, for example, spent a jaw-dropping $1 billion over eight years to implement an ERP system. Similarly, Leaseplan, a fleet management business, sunk nearly $100 million only to experience several failed ERP implementations. 
But hey, the best things in the world always come with some level of risk — and if you look past these failures, you'll see that 88% of ERP implementations are successful. That said, here are some challenges you may face when starting your ERP journey:
Spending over budget, especially if you're interested in customizations 

Risks associated with security and data migration 

Lack of employee buy-in or training 
Here are some factors that may impact your budget, implementation duration, and ERP features:
Are you integrating your ERP software with existing technology, or are you building it from scratch?

Are you using cloud or in-house ERP?

Is your vendor implementing your ERP software, or do you have to hire a third-party consultant or leverage your in-house tech team?

What are the objectives of your ERP integration?  What IT and infrastructure do you need to make it a success?
4. How Can I Choose the Right ERP System? 
If you're in the market for an ERP system, congratulations! It's exciting to embark on new phases of your growing business. However, it's important to remember to spend the necessary time and energy to accurately identify your needs and choose the right ERP system provider. 
We're here to help navigate these uncharted waters. First, consider these questions:
Is your business ready for ERP? If you're struggling with manual processes that can and should be automated, then the answer is yes. 

What are your objectives and business requirements? 

How will you measure the ROI of your ERP integration? In other words, how will you calculate any productivity or data accuracy gains?

What is your budget and integration time frame? 
After you compare different options and choose your vendor, use this checklist to stay organized as you undergo the integration planning process.
5. How Does Shopify Plus Support ERP Integrations?
In October 2021, Shopify Plus launched the Global ERP Program, which lets chosen ERP providers (including Microsoft Dynamics and Oracle NetSuite, among others) assist Shopify Plus merchants with building ERP integrations — no more third-party implementations needed!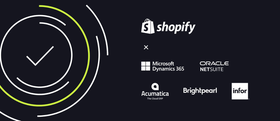 If you're an enterprise merchant, we highly recommend you check it out, so you can deliver even better experiences to your shoppers. 
Wait, There's More!
You know who else belongs to the Shopify Plus Certified Partner Program? AdRoll! Once you explore ERP and unlock richer data and insights, it's time to plug them into AdRoll and boost your marketing and ads. Learn more about how AdRoll can power your brand.
Last updated on April 1st, 2022.