Make your marketing mix matter, with advanced cross-channel attribution
AdRoll Advanced Tracking makes holistic, multi-channel attribution and measurement accessible to brands of all sizes, to help you outpace the competition, maximize customer lifetime value (CLTV), and grow your brand faster.
Scale the marketing activities driving growth
AdRoll Advanced Tracking gives you a clear picture of where to keep going and when to scale back. We bring all your ad and conversion data into one place to surface insights like the top channels, events, and devices your customers interact with along their purchase journey.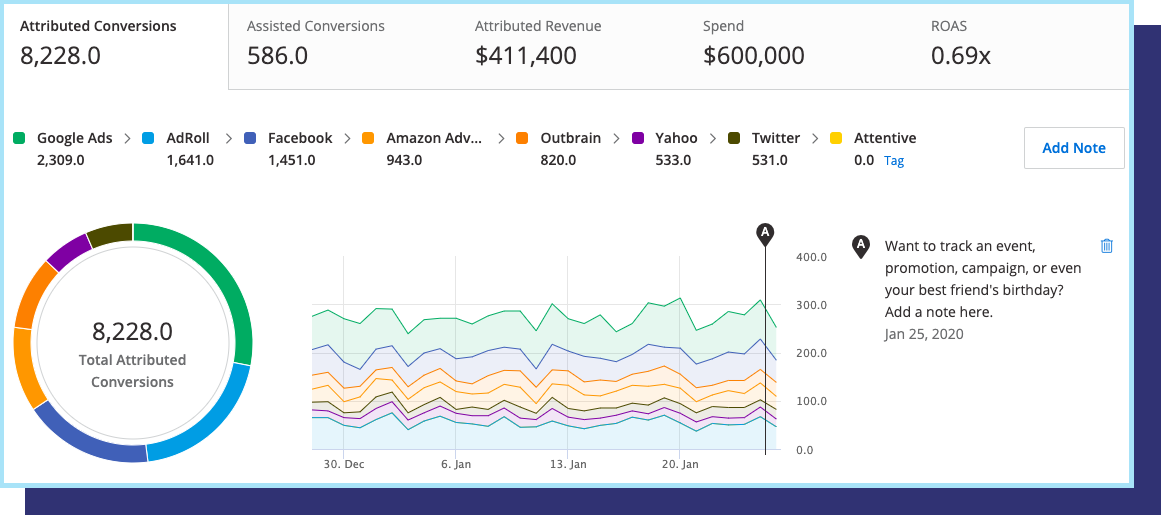 Unify cross-channel marketing performance
Streamline the cumbersome task of interpreting massive volumes of customer data. AdRoll Advanced Tracking unlocks a faster, more scalable way to digest insights on the impact all your marketing activities have on ROMI (return on marketing investment).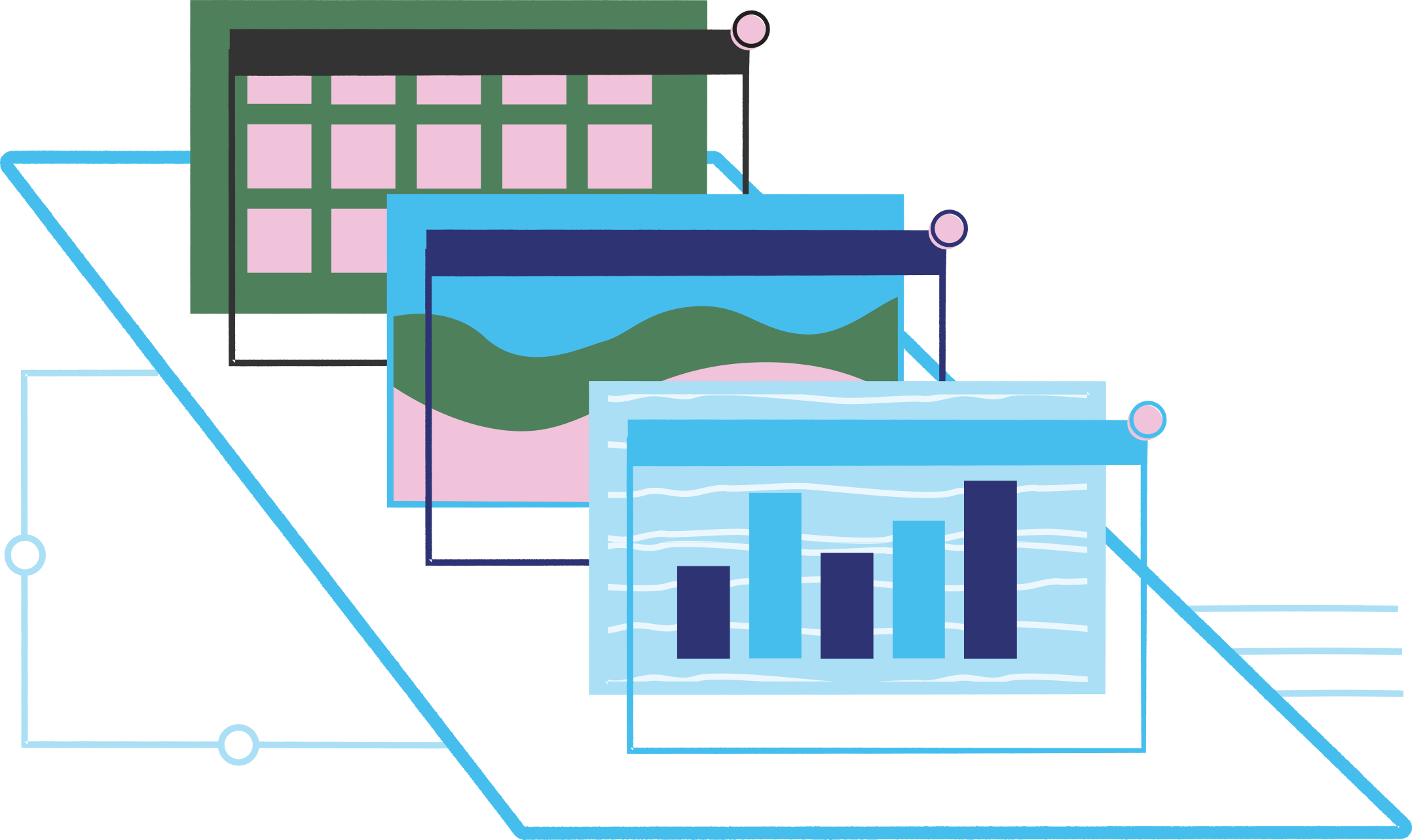 De-duplicate conversions and revenue data
Directly connect your marketing stack with an extensive library of turnkey integrations to automatically ingest spend and de-duplicate conversions for accurate return on investment calculations. You can also incorporate other marketing channels, by easily adding spend to ensure consistent revenue reporting.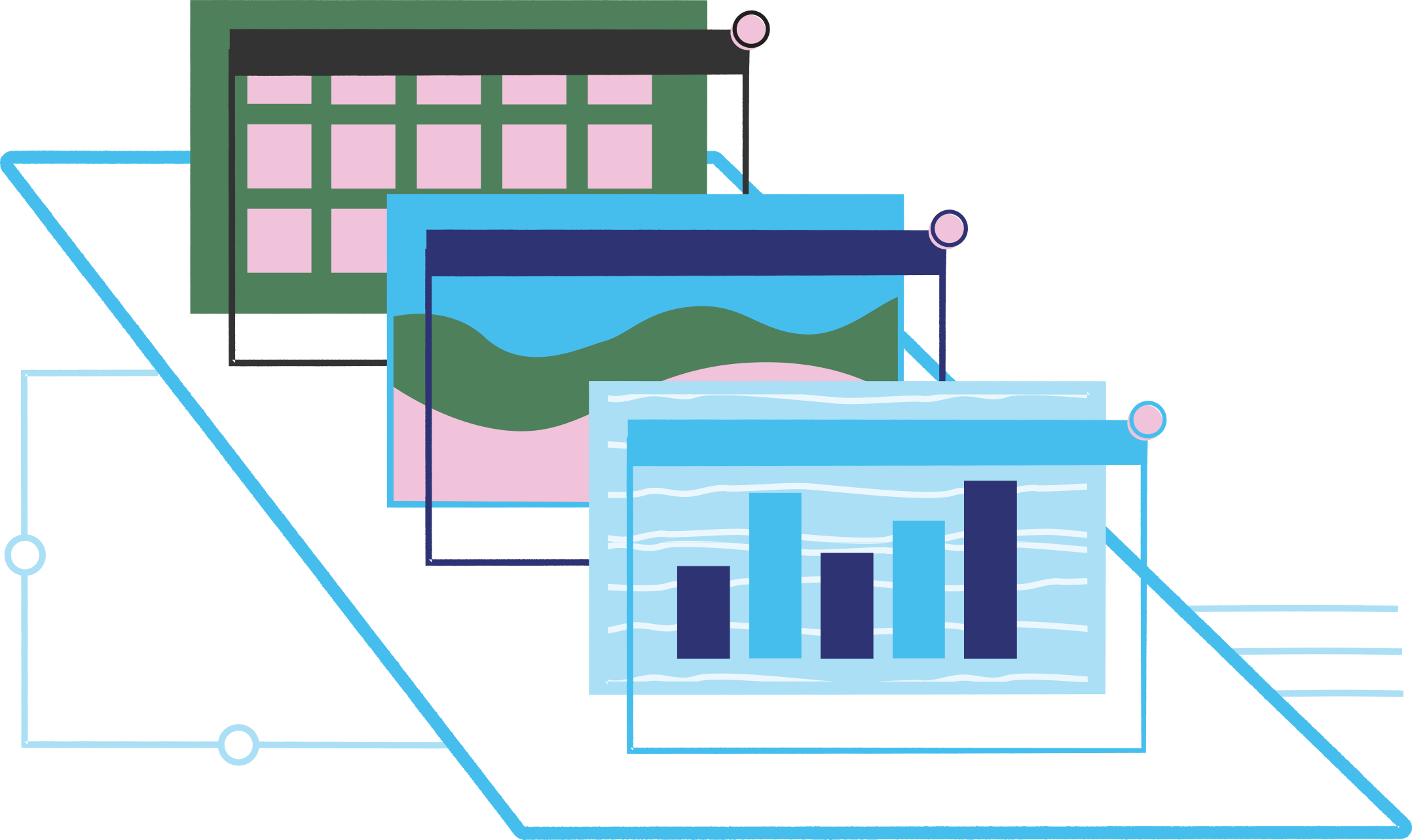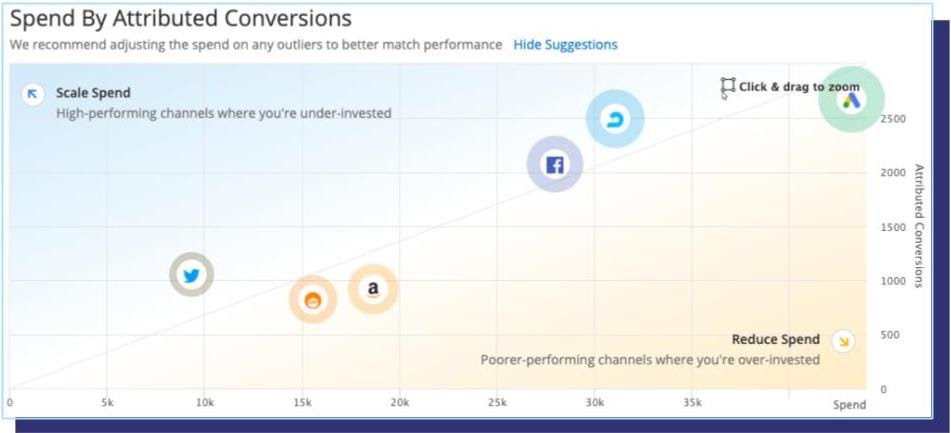 Spend your budget where it matters most
AdRoll Advanced Tracking quickly answers many marketers' most burning question—how do I get more mileage from my marketing budget—and immediately take action. With AdRoll, understand where your budget is truly delivering results. Use budget recommendations to make in-flight budget changes to campaigns or channels. AdRoll Advance Tracking helps you analyze your spend to conversion performance, helping you quickly identify opportunities to improve marketing efficiency and re-allocate resources to the campaigns driving revenue.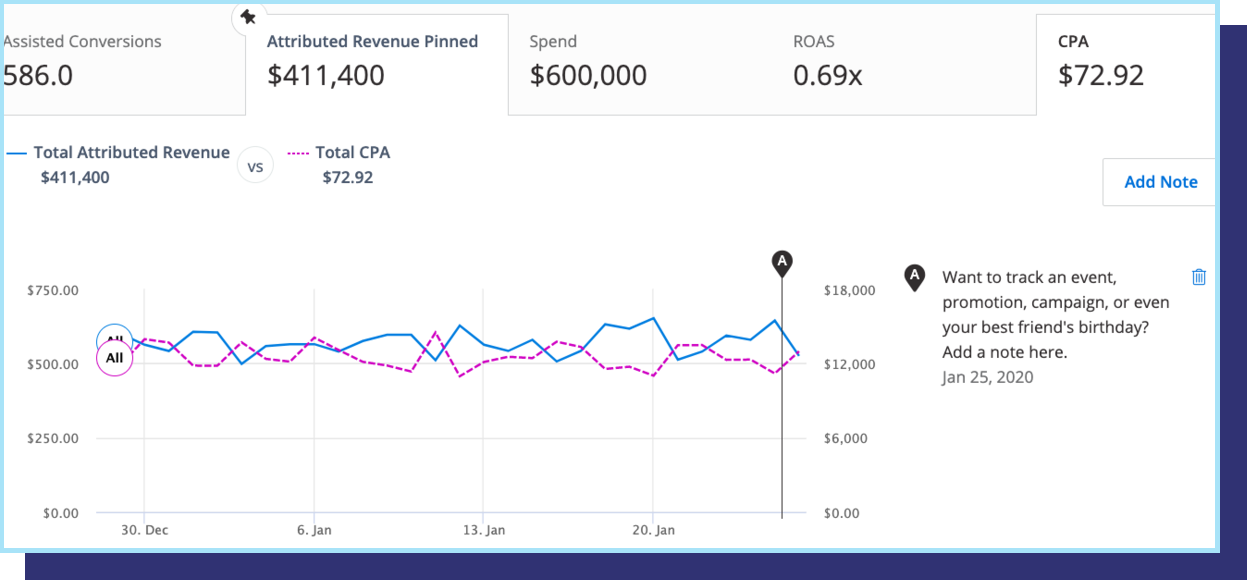 Easily identify top level trends
Get high-level trend views, and quickly compare overall channel contributions to key metrics like conversions, spend, ROAS, revenue, and CPA. AdRoll's Advanced Tracking identifies key events or changes within your marketing mix that could impact performance, and analyzes each channel's performance side-by-side with key metric comparisons for strong correlations.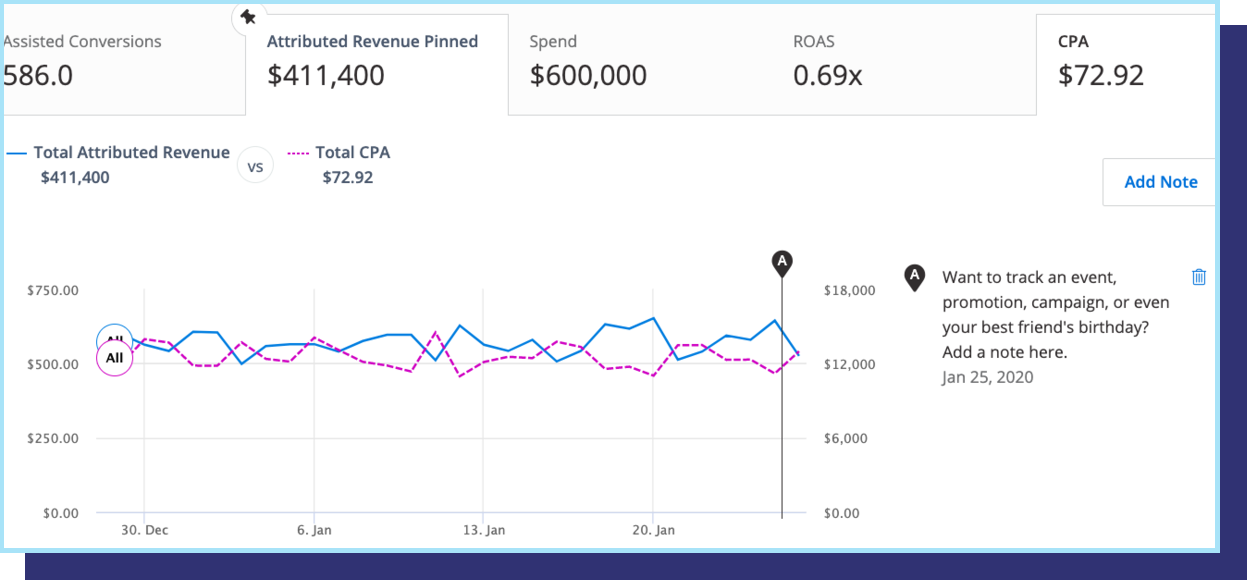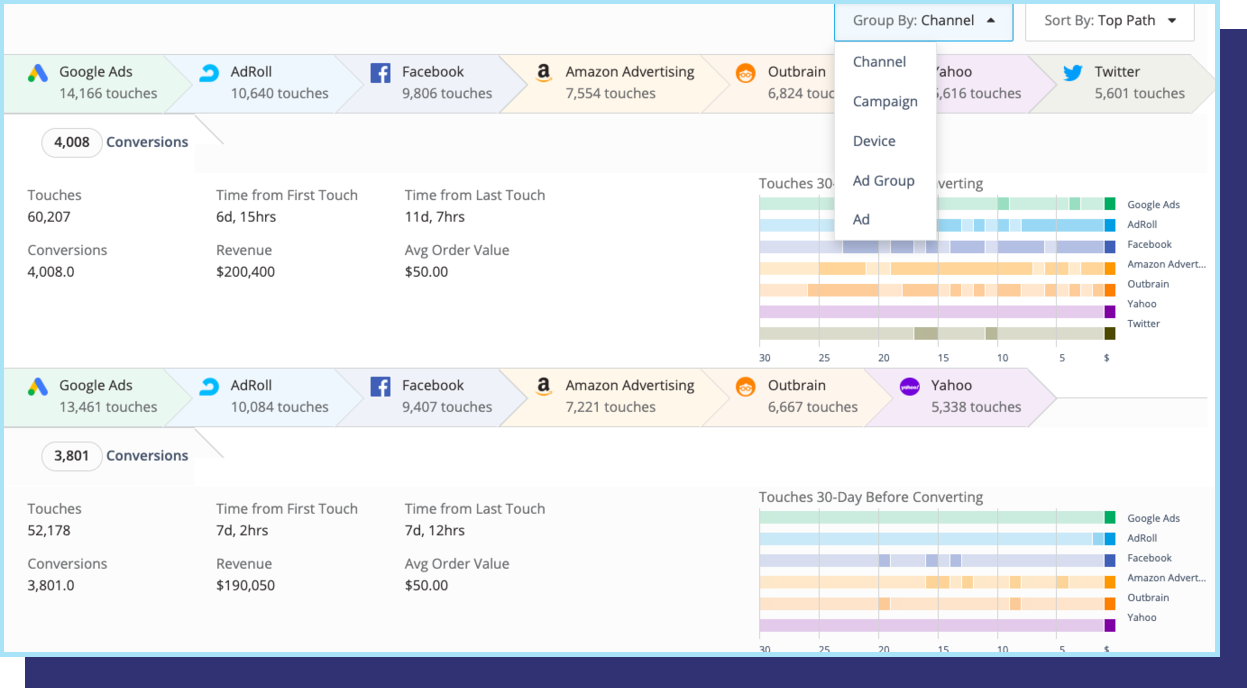 Know the channels engaging your most valuable customers
Make smarter marketing investments based on the entire journey, not a single channel. Drill down into customer journeys by channel, campaign, ad group, and ad to identify which tactics affect customers' decisions to bounce or buy. Analyze top conversion paths by revenue, average order value, and path length to see how views and clicks from one channel drives engagement across other channels.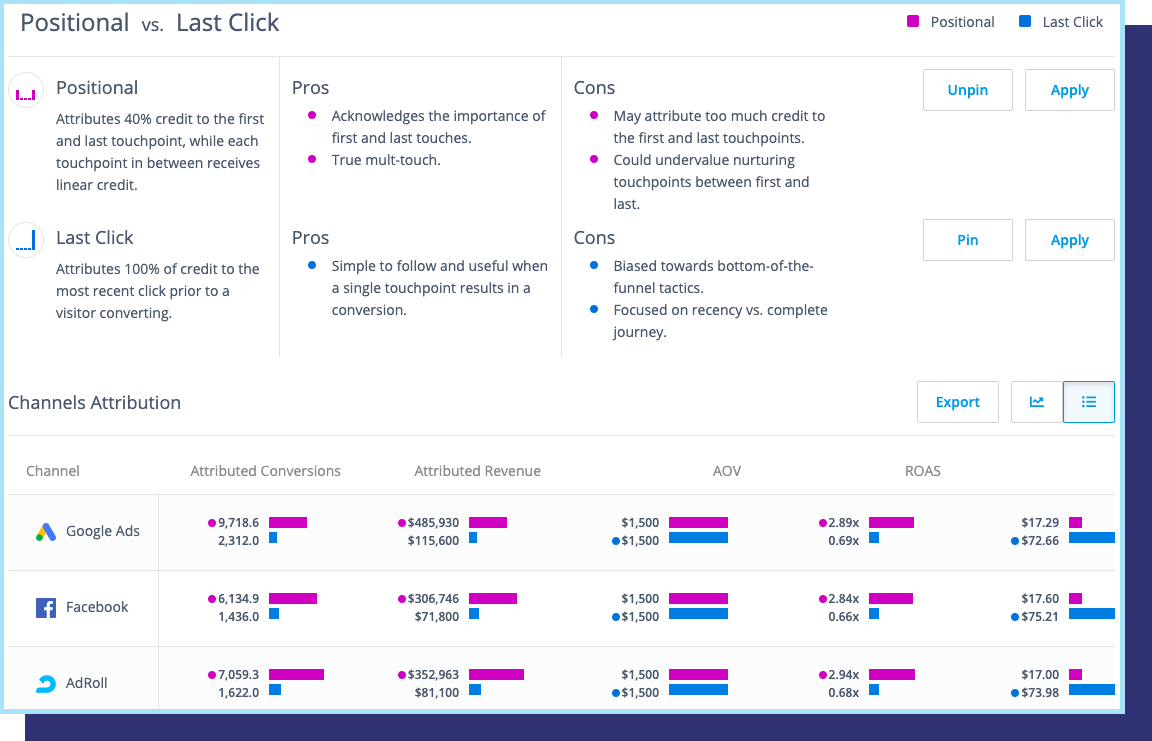 Finally move beyond last-click
See how your model holds up against others, without having to commit to any wholesale changes or investments. AdRoll Advanced Tracking acts as your on-demand business intelligence team, giving you a safe space to explore how different attribution models define success.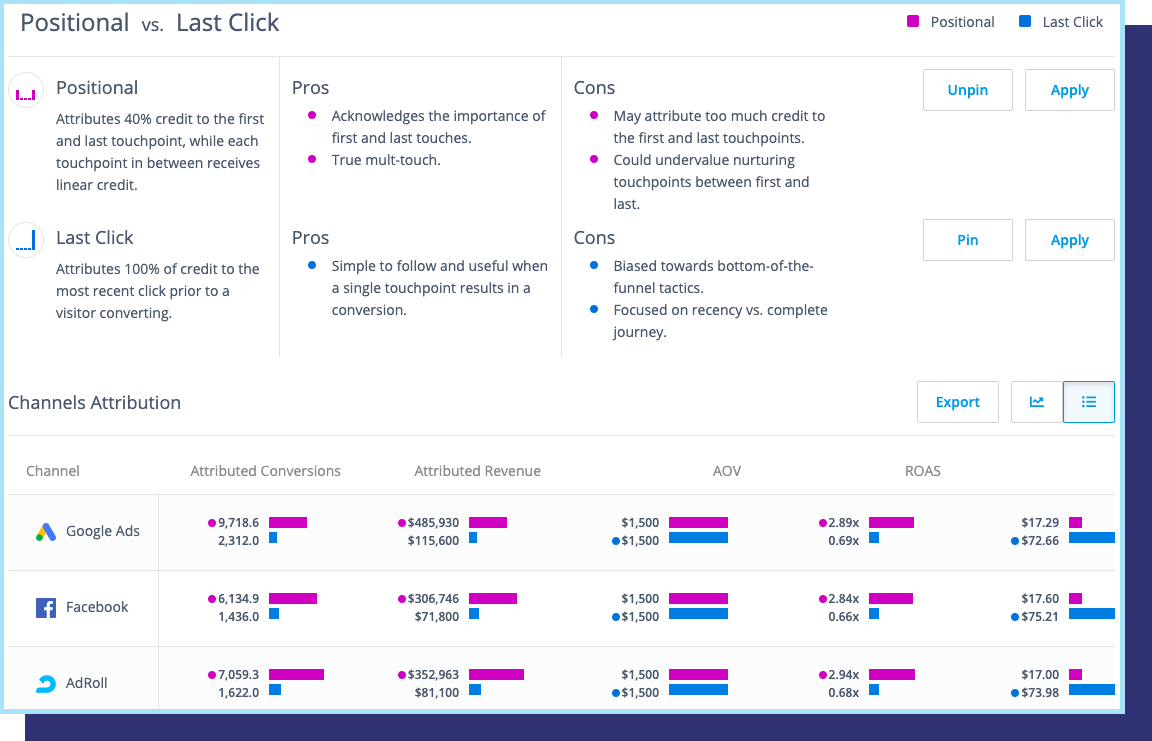 "AdRoll's cross-channel measurement solution lets us see how customers are moving through various channels. Since we can see the actual impact different marketing tactics have on the bottom line, we've been able to experiment with new omnichannel strategies with more confidence."
Jasper Mordeno, SEM Manager, AlgaeCal