What is Native Advertising?
Topics Covered:
Innovation in the digital space has created a connected and tech-savvy world, leading to more people who depend on internet access (both professionally and socially) daily. According to research conducted by Statista, 58% of the world's population (that's almost 4.48 billion people!) are active internet users. That's insane when you consider how many of these internet users are shopping online, especially during peak shopping seasons.
Direct-to-consumer (D2C) brands have taken notice. More and more D2C brands have flooded digital channels scouring for sales and revenue opportunities. Consequentially, an endless number of marketing tools, tactics, and more specifically, ad types, have sprouted up. With 66% of businesses advertising online, it's now more difficult for a D2C brand to distinguish themselves in such a crowded digital market.
Despite the breadth of options, many marketers gravitate towards the same tools and ad types — in particular, display ads. Recently, eMarketer estimated that businesses planned to spend approximately $68.62 billion on display advertising alone. Now, I'm not saying that digital display ads are ineffective — quite the contrary. When incorporated into a broader marketing strategy, they can actually be quite impactful. That's why so many D2C brands and marketers utilize them. But supplementing your marketing mix with other tactics, such as native advertising, can help you stand out from the competition who are all serving the same ad types.
An Introduction Into Native Advertising
Native advertising is a type of advertising that utilizes ads that mimic the form and function of the sites or apps they're being placed on. As opposed to drawing too much attention, native advertising ads have more of an editorial look and feel, making it more of a soft sell. The stats speak for themselves — native advertising works.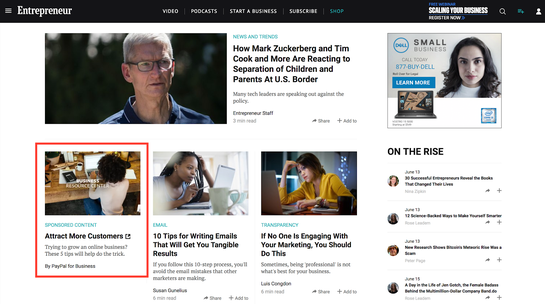 According to Sharethrough, native ads draw 53% more attention than regular display ads, raise purchase intent by 18%, and bring a 9% lift in brand affinity. Some of the biggest brands in the world are successfully using native advertising to engage and build rapport with customers.
Why Should D2C Brands Consider Native Advertising?
The popularity of digital display ads has altered the way customers interact with advertisements online. In short, display ads are everywhere online. As a result, customers are developing banner blindness, which is when someone ignores elements of a webpage that look and feel like an ad. Despite the evolving nature of digital marketing and the introduction of new tactics, customers have remained savvy — ensuring that banner blindness is here to stay. 
Native ads are a great solution because they break from the norm of display advertising and provide an experience that doesn't disrupt users with ads that stick out like a sore thumb. This makes this ad type a natural fit for social media platforms, in particular, Instagram.
The very nature of the platform lends itself perfectly for native advertising. Instagram ads look like regular posts, with only a slight difference; they have a call-to-action (CTA) button. The biggest benefit of Instagram ads is that they allow you to drive traffic directly from a person's feed onto your website. By clicking on the CTA button, anyone can go directly to your destination page. This seamless transition helps expedite the process of turning digital window shoppers into loyal customers.
Businesses that advertise online continue to see native advertising as a natural vehicle for revenue growth. Native advertising adoption is estimated to increase by almost two-thirds next year. This form of advertising isn't going away anytime soon.
Some Things to Consider When Using Native Ads
Regular display ads are naturally more reliant on design elements. The color (background, font, CTA button, etc.), typeface, and illustrations are so crucial to the success and impact of this ad type. Native ads, on the other hand, function differently as they are more dependant on copywriting elements. This makes the written word essential to quality native advertising. So, how does writing copy for display ads differ from crafting copy for native ads?
Traditional ad copy typically uses straightforward language that highlights a product's benefits, presents an interesting stat, or asks a thought-provoking question. Compelling native ad copy should have language that emphasizes the target audience's needs, wants, and pain points. Here are a few tips for writing engaging and effective native ad copy:
Make every character count. Native ads provide space for 90 characters in the title and 140 characters in the description — so make sure to maximize the value of each one.
Be evocative. People respond to words that spark curiosity, especially if they lead to a potential benefit for them.
Speak directly to your audience. Customers respond to advertising that makes them the center of attention. Words like "you" will make the experience more personal for them.
Don't forget the brand name. Audiences associate branding and messaging after multiple interactions (i.e., seeing ads). Make sure to include your brand's name in either the header and description so that your brand is always top-of-mind.
[amp-cta id="6967"]
Last updated on September 16th, 2022.