Unrolling: How the YETI Marketing Strategy Stays Cool
Topics Covered:
The best way to stay cool during those hot summer days at the beach, on the road, or at a backyard barbecue? Store your icy delights and chilled treats in a cooler, of course. But if a cooler is one of those products you rarely give a second thought to, we're here to blow your mind: We're taking a deep dive into $300-plus YETI coolers, their devoted following, and how they've made over $1 billion worth of sales in just 12 months. 
Cool as Ice
The story of YETI coolers begins with a tale of two brothers. Growing up in Austin, Texas, Roy and Ryan Seiders loved spending time together fishing and hunting outdoors. Yet, the Texas heat was stifling — and they soon realized it was impossible to find a solid and durable cooler to keep their drinks and catches cool for a significant amount of time. At the time, the coolers on the market largely prioritized affordability, which translated to cheap quality and materials, such as styrofoam. 
In 2006, the Seiders brothers headed to their dad's garage, where they tinkered with the idea of creating an indestructible cooler with impressive outdoor performance. The YETI website describes how, early on, they decided not to rely on standard consumer research and data analysis. Instead, product innovations would be a manifestation of first-hand experience to, as their company motto says, "improve the damn thing."
Just like that, the first YETI brand cooler, "The Tundra," was born, quickly becoming a massive hit among outdoor enthusiasts, including hunting, fishing, and water sports hobbyists. As the company grew, so did its product line. Shortly after, YETI started to sell everything from duffel bags, which are "a gear fortress," to five-gallon buckets "built to do the work," to even $2,000 coolers that are "ready to take on offshore beasts." The new items helped elevate the YETI name into a globally recognized champion of upscale outdoor gear.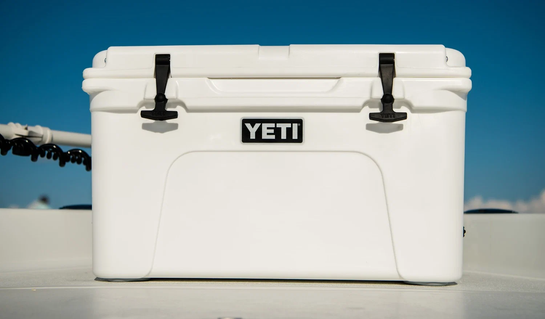 Despite its niche market, the company's successes kept rolling in. In October 2018, YETI went public. A year later, it opened its first flagship store in Chicago, and other locations in Dallas, Denver, and Florida soon followed. Now in 2021, the company's market cap has reached a whopping $8.4 billion with no signs of slowing down.
Ice to Meet You
Not many people are open to shelling out over $300 for a cooler — and YETI knows that. However, with a thorough understanding of who their ideal customers are, what they want, and how they buy, the brand does a great job of attracting, engaging, and convincing them why it's worth it. 
"We targeted people who spent the money on the best gear," said Corey Maynard, vice president of marketing at YETI. "The people who will always have the latest stuff, and then we let them tell their stories to their friends on our behalf." 
But there's more — as YETI grew, it successfully expanded its brand beyond its initial target audience. The brand realized they could target another demographic who could use a great cooler: tailgaters. With its Texan roots, it wasn't difficult for the company to attract shoppers obsessed with college football and are tired of the heat. After all, if a hunting or fishing buddy stops by your tailgate or barbeque with a fantastic cooler that keeps beer ice-cold all day long, you'll probably at least consider looking into one for yourself, too.
Today, the YETI brand targets everyone from hardcore outdoor adventurers to those who simply like to spend time in the sun or at least hope to partake in more outdoor activities (and less time in the office!). It's a similar effect to how winter enthusiasts wear Patagonia fleece jackets but also tech workers in San Francisco and New York, for example. 
Whichever audience segment they belong to, the YETI brand has become an opportunity for self-expression. This sentiment is captured perfectly by YETI CEO Matt Reintjes, who said to the New York Times: "We talk about being 'built for the wild,' but we don't want to define what the wild means." 
Love at Frost Sight
When it comes to niche markets, such as outdoor gear, word-of-mouth marketing can go a long way. With that understanding, the Seiders invested heavily in branded merchandise during YETI's early days, even going so far as to include a YETI-branded hat and T-shirt with every cooler order. Unlike other tchotchkes (think USB sticks, pens, or lanyards) that people usually dump in a drawer or throw away, T-shirts and hats were ideal for an outdoors-oriented customer segment where dressing casually is the norm.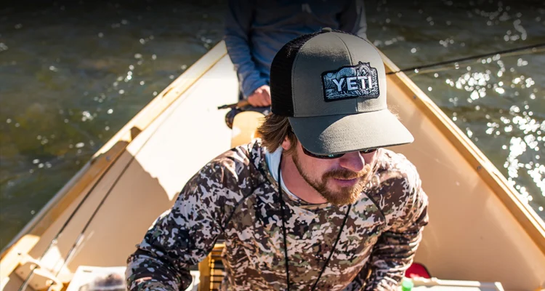 Soon after the company launched, they had amassed a devoted following of unofficial brand ambassadors who loved to show off and promote their YETI-branded gear with their peers. When describing their marketing strategy, Roy Seiders shared, "I really felt like we educated our consumer on the selling points of our product. So when someone had a Yeti cooler in the back of their truck, they could defend that." 
As the company grew, so did their paid influencer and "prosumer" programming efforts. "Those commercials didn't reach millions of people, but the people that they did reach were the most serious hunters and fishermen," said Maynard. 
Breaking the Ice
Before YETI was born, there was nothing comparable to it. With the lack of competition, it was relatively more straightforward for the Seiders to dominate the "luxury outdoor gear" market — after all, they weren't trying to compete with the $30 coolers you can get at Walmart or Target. 
When it comes to pricier products and high-end brands, you're not trying to grow via high volume sales and traditional retail distribution. So, the brothers doubled down on outdoor trade shows they had attended in the past, as well as cold-calling local specialty goods stores that offered outdoor gear (such as hardware, tackle, and sports stores) to promote a new value proposition: Instead of selling $30 coolers for a tiny margin, sell our premium coolers and retain a more significant cut. Slowly but surely, the brothers received buy-in, which helped develop the brand's reputation within the niche circle. 
Chill Out With the Selling
The purpose of content creation and marketing isn't to constantly sell, sell, and sell some more to your target audience — instead, it's to provide them with something of value, which will then help them view your brand in a positive light and feel connected to what you offer. 
Given its grassroots approach to marketing, it should come as no surprise that YETI's content is a masterclass in emotional connection. The brand's storytelling taps into the outdoor-oriented lifestyle that potential and existing customers may yearn for or already embody, demonstrating how the brand is authentically dedicated to the same values as its shoppers.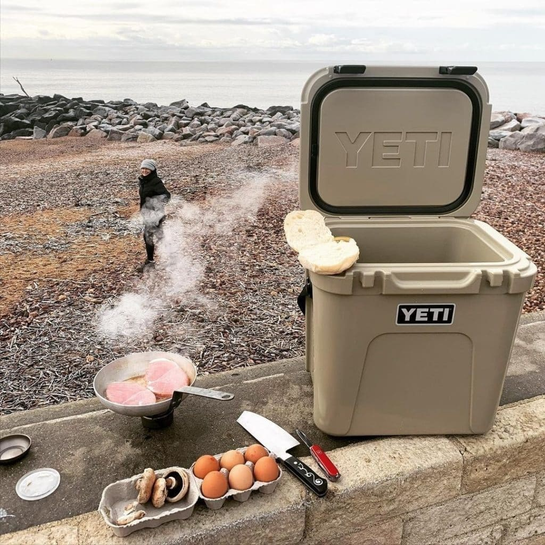 In an interview, Scott Ballew, YETI's head of content, said, "People, in the long run, want to feel part of a tribe or feel like they're contributing alongside like-minded people; and that's how a brand becomes a brand. People put bumper stickers on their cars and wear hats because it starts to stand for something bigger than just a cooler. When there's a soul or a purpose or some sort of philosophy, people begin to connect with things that give them purpose. So, if you're a fly fisherman and wear a YETI hat, that means something. I don't think people are wearing their YETI hats because they're proud of their ice. I think content like ours gives a brand a soul."
It's clear that YETI's target audience is devoted to this story — the brand currently boasts over 1.1 million Facebook followers, 1.6 million Instagram followers, and Youtube videos with tens of thousands of views each. 
The Pros Froze Best
Let's be honest: If you're at a backyard barbecue, you probably don't need a $300 YETI cooler that's bear resistant and features military-grade ropes. I mean, the fridge is right there. But that doesn't stop people from purchasing YETI coolers for casual hangouts anyway — there's something about indulging in the fantasy of being an expert by purchasing professional-grade gear, even if the customer doesn't truly need it. Think, for instance, of an amateur garage musician purchasing a super expensive drum kit set or a commuter cyclist buying a $12,000 road bike. 
YETI's marketing taps into this psychology by leveraging testimonials and social proof. Roy Seiders said: "It was a huge help to have high-profile hunters and fishers reinforce that image with testimonials. At the time, no other cooler company was advertising to outdoor enthusiasts or taking advantage of the professionals in the sport. Ryan and I couldn't quite believe it; it was wide open. If you're a game hunter in the Northwest, you're going to know Jim Shockey. If you're a serious saltwater fisherman, you're going to know Flip Pallot. Both of them have given video testimonials on our site. We approached them even though we didn't have the resources to sponsor those guys at the time. We'd give them our cooler; they'd use it and give us a testimonial." Beyond just hunters and fishers, YETI also tapped into a network of snowboarders, professional skiers, and even cowboys as their ambassadors and influencers. 
Converting a stereotypically "boring" product into something of desire that people are willing to pay big money for is what every brand dreams of. Luckily, this marketing tactic works because YETI's products are as good as they advertise to be.
The Roll-Up
Even if you're not selling a high-end product in a niche commodity market, there's still a lot you can learn from YETI's success in terms of growing an idea into an iconic lifestyle brand:
Be authentic. To amass followers who genuinely believe in the solution, idea, or value you're promoting, you need to engage with them in a relatable and authentic way. Authenticity is something you can't fake — if you're not already an active member of your industry's community, you'll want to dive in and start making connections ASAP. 
Use quality to explain your price tag. Poor-quality products with luxury price tags will rarely sell. Value comes from quality — design, materials, manufacturing processes — that justifies the costs. Throughout your website, make sure to prominently showcase proof of quality, whether that's through testimonials, manufacturing videos, or explanatory copy. 
Prioritize value, not product specs. No matter what you sell, few people care about lengthy product feature explanations or specs descriptions. Instead, they want to know what your product will do for them, whether it's solving a problem or helping them achieve a lifestyle. 
Innovation can spark from anywhere. There are opportunities all around us — just look at all the direct-to-consumer (D2C) companies that have reinvented the playbook for everything from razors to glasses to orthodontics. With a bit of creativity, strategic planning, and bravery, you, too, can turn a boring consumer product into the biggest and best brand. 
If you're looking for more tips, tricks, and best practices to transform your ecommerce company into something as awe-worthy as the YETI brand, we've got you covered over at the AdRoll Marketing Resource Library. 
Last updated on November 3rd, 2022.