The Complete Ecommerce Marketing Guide: For Brands at Every Business Stage
Topics Covered:
From blogs to Instagram to Google ads, ecommerce marketing can be a tough beast to conquer, especially for small businesses. How do you know which tactic can best help you boost traffic? Increase conversions? Grab more market share?
This comprehensive guide will introduce you to different ecommerce marketing channels, tactics, and tools for every brand at every business stage. Whether you're just starting out, looking to grow, or aiming to become a brand leader, you can use these ecommerce marketing tips to drive brand awareness and delight your audience.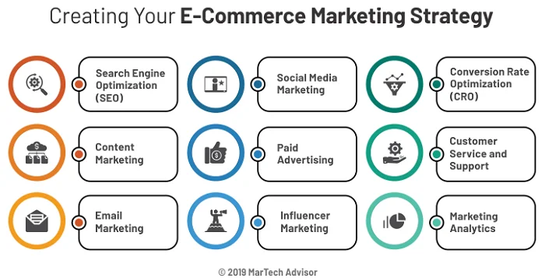 In this guide:
Starting Brands: Build Your Brand and Traffic
Growing Brands: Drive Sales
Leading Brands: Delight Your Customers
Starting Brands: Build Your Brand and Traffic
Congratulations on starting your ecommerce marketing journey — as a starting brand, you're probably trying to figure out how to best promote your products to as many people as possible. Fortunately, there are many marketing strategies out there to help you promote your brand and generate sales. Plus, organic marketing strategies are free in the sense that they don't require an outside person or tool for you to use them, which makes them an excellent choice for new ecommerce businesses just starting to grow their brand. Here are some ideas you can start implementing today:
Content Marketing
Content marketing is a valuable marketing strategy that enables ecommerce businesses to attract, engage, and convert potential customers using content, such as articles, podcasts, e-books, videos, webinars, and more. Not only does content marketing increase brand awareness, which is vital for businesses just starting out, but it drives traffic to your ecommerce site and establishes you as an industry expert too. The best part is that content marketing is a relatively inexpensive form of marketing because you can create content on your own. However, there is definitely a time and a place to hire expert content creators to help you produce even more great content.
If you haven't noticed, most branded websites now have "blog" or "resource" sections. That's because content marketing works — it's a great way to target different audiences throughout your marketing funnel and improve your site's ranking in search engines. 
Here are some content ideas to share with your audience via posts on your blog:
Share your brand story. Why was the company founded? Who are the founders? Does the company have charity partners?
Discuss the problems that your products address. Why should people buy your products? What's unique about them compared to those of your competitors?
Post tutorials. How can customers best use your product? Include a video tutorial to go along with the blog post for visual learners!
Answer your audience's frequently asked questions.Make it easy for potential customers to learn more about your products by answering questions related to your business.
For many, blog posts may come to mind when they hear the term "content marketing." But that's just the tip of the iceberg. Some other popular content formats include:
Youtube videos. With over a billion active users, Youtube is the platform that your customers are spending time on. You can share product information, how-to videos, and behind-the-scenes content to help increase brand awareness and sales.
Long-form guides and case studies. If you've conducted any research or trend analyses, consider repurposing it for a downloadable guide or case study that features your expertise. 
Guest posts. By partnering with industry-adjacent companies and sharing guest posts on each others' channels, you can access a brand-new audience. (In terms of SEO, guest posts and backlinks can significantly boost your site's domain authority, too.) 
E-books. If you are an expert on a topic in your industry, consider putting your knowledge into an e-book to share or even sell. 
Pro tips for content creation:
To get started, you'll want to brainstorm topic ideas based on relevant, high-traffic keywords. 
You have more content than you realize! For example, if you've created a downloadable e-book, you can easily splice it up into several infographics or short-form blog posts. 
To make your content more engaging, ask your audience questions and encourage them to leave comments. (Don't forget to respond to all of them, though.) 
For a list of must-have content marketing resources:
SEO
Search engine optimization (SEO) is the science of making your brand, stories, and products discoverable on search engine result pages (SERP), like Google. And unless you have a strong SEO strategy, amazing content might go to waste. (Gasp!)
SEO utilizes keywords and phrases to understand what content is about and place it in front of the right audience at the right time via search engine results. The SEO keywords you choose should be relevant to your brand, product, and target audience and highly searched online.
Here are some steps every ecommerce marketer should take to ensure their SEO is updated:
Optimize your product pages. Make sure each page has concise, product-driven keywords that include a comprehensive product description. You'll want to strategically place target keywords and phrases on each page, including in the title, URL, header tags, and alt text. 
Optimize your blog posts. Each blog post should have a unique SEO keyword phrase relevant to the post content. When you optimize your blogs, you increase the likelihood that they show up as a Google search result when a potential customer searches for the keyword you use.  
Create a keyword-driven FAQ page. Make sure the keywords you select are long-tail ones. This will help build site authority and drive traffic. 
Make your site mobile-friendly. More than half of all online shopping is now done via mobile devices, which means ecommerce stores should start pivoting to a mobile-first approach. Consider adding mobile-friendly functions, such as swipeable carousels and larger buttons. 
Reduce page load time. You can use Google PageSpeed Insights to review your current load time. Kick off your load time optimization by replacing large image files. 
For more on how to build an SEO strategy:
Email Marketing
Email marketing is as old as digital marketing itself, yet it's still a handy marketing tool in 2021. Plus, there are so many ways to use email to reach, engage, and convert your target audience. The best email marketing strategies use a variety of approaches to build trust with your audience and sell to them eventually. If you haven't started building an email list yet, here are the many benefits of email marketing that will encourage you to start::
It's inexpensive. Compared to digital ad space, email marketing is significantly more cost-effective. Even though email only accounts for roughly 17% of digital marketing spend, it contributes nearly 25% of revenue. 
It can be automated. With the right martech tools (like AdRoll!), you can set up a simple, automated drip campaign that delivers appropriate emails to segmented audiences at the right time. 
There's room for creativity. Email campaigns mean you're not limited by 280 words (Twitter) or 125 characters (Facebook ads.) As long as you have a catchy headline, the possibilities with email are endless — start by embedding a video, cool graphic, or even gifs.

Email capture example from Payton Jewelry.
For budding brands, prioritize building your email list early. To capture new email subscribers, you can:
Place strategic lead generation tools on your site, such as header bars or pop-ups. (You can offer your audience a discount or freebie once they sign up.)
Entice your audience with unlockable downloadable content sent to their emails.  
Host an online event that requires an email sign-up. 
Pro Tip: As digital users become more aware of data privacy, you'll want to be meticulous about how you handle your email list. Make sure you request and receive consent before adding anyone to your list. Maintaining trust is the key to all ecommerce marketing. 
For more on ways to capturing email addresses:
Once you've captured customer email addresses, there are a variety of email types you can send. 
Here's some inspiration: 
A welcome email for when they first sign up or make a purchase. You can introduce them to the brand story or your best-selling products. 
A post-purchase follow-up email. This is a nice check-in to show that your company cares about its customers even after a completed sale. If you have content to help customers make the most out of their new purchases, such as product tutorials, plug them in this email. 
Promotional emails. Email is a great way to hype up a sale, discount, or deal before a big event. To show your appreciation, you can provide email-exclusive promo codes or freebies. 
Abandoned cart recovery email. Shoppers abandon their carts for all sorts of reasons — distraction, unexpected shipping costs, expired deals — but that doesn't mean they're a lost cause. Consider sending them a friendly email reminder encouraging them to finish checking out. It's also an opportunity to offer assistance or cross-sell related products. (More on this later.)
Regular newsletters. For brands striving to build a community, newsletters that share product tips, company news, or behind-the-scenes sneak peeks can be a welcome reprieve from promotional emails.  
And this goes without saying, but, as an online store, you'll also want to send transactional emails to provide shoppers with updates regarding their purchase, such as order confirmations, delivery confirmations, receipts, and shipment updates. 
For more email marketing strategies:
Growing Brands: Drive Sales
For growing ecommerce businesses, the challenge is sustaining the momentum and capturing even more attention, shoppers, and market share. Fortunately, there are many ways you can reach and engage your target customers. To get started, You'll want to consider these ecommerce marketing channels:
Digital Ads
Here's the unfortunate truth: In today's noisy digital landscape, brands can find themselves quickly peaking their organic reach. That's why digital ads — search ads, social media ads, native ads — play a heavy presence in ecommerce retailers' marketing budgets.
Here are some examples of digital ads to consider incorporating into your paid marketing strategy: 
Contextual targeting. With the death of third-party cookies, contextual targeting is the next best way to reach potential customers in relevant ways.
Social ads. Leverage the abundance of social media data to display ads to your target audience on platforms like Instagram, Facebook and YouTube. 
Search engine marketing (SEM). SEM includes both SEO and paid search advertising. While SEO is all about optimizing your website to make it rank higher on search engines, SEM can also involve search display ads, pay-per-click (PPC) campaigns, or product-specific ads (for example, Google Shopping). 
Social Media 
Creating a Facebook page or Instagram account is a must for every ecommerce business. Social media platforms provide a way for ecommerce businesses to put their brand and product in front of a large audience for free. Plus, with new features like Instagram Shopping, there are even more ways to use social media to promote your online store. But no matter what industry you're in, the days of posting an image, adding some hashtags, and calling it a day are over. Now, to stand out on social media platforms, you must keep up with the trends and post content in line with user expectations. Consider these tactics to jazz up your social media strategy: 
Create shoppable content. These are posts that your social media followers can buy from directly and immediately, without having to leave the platform. Shoppable content is a great way to eliminate friction during the customer journey by providing a direct path to purchase. 
Engage with influencers. By partnering with people or brands that influence your target audience, you can enter their community and conversations more easily. Influencers engage on the basis of trust, which means their followers will take a recommendation or sponsored post more seriously. 
Encourage product reviews. Launch a marketing campaign that encourages your brand loyalists to leave a review on your social media pages, in turn generating valuable social proof for prospective consumers. 
Utilize short-form video content.With the rise of TikTok, other social media sites are hopping on board and pushing short-form video content as the best way to reach and engage new audiences. Now, you can create Reels on both Instagram and Facebook. These short videos are a great way to show off a product, share tips relevant to your brand, and highlight the people and personalities behind your business with educational and entertaining content. 
There are many different social media platforms available for you to use. However, you don't need to be on every single one to increase brand awareness, engagement, and sales for your online store. You only need to be where your target audience is. So, before you begin posting content, do a bit of research to learn where your audience spends time online and what type of content they enjoy engaging with the most.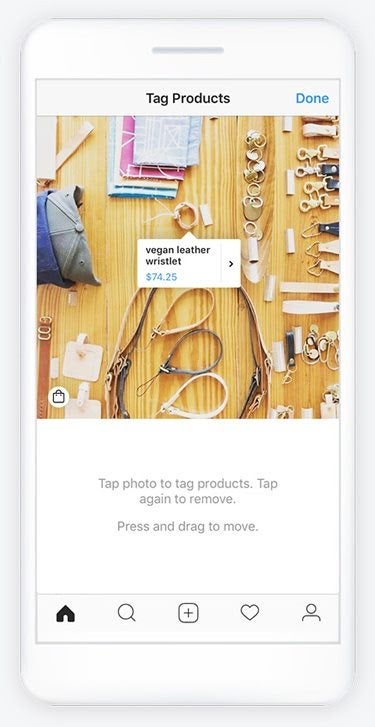 Retargeting Ads
You're probably familiar with the shopper who browses your products, adds a few things to their cart, and never checks out. Harsh truth: You're losing money with every abandoned cart, but it will continue to happen, whether you like it or not.
In fact, a whopping 69.23% of shopping carts are abandoned, according to the Baymard Institute. Luckily, we have tools to reduce cart abandonment rates, namely retargeting ads. 
Retargeting ads can exist in many forms, from social media ads to email recovery campaigns that remind people to return and check out. It may offer an additional incentive, such as a small discount or free shipping, or it may include enticing copy that induces FOMO, like "These products are selling out fast!" 
If you are looking for ways to increase sales and improve your ROI, it's time to implement a retargeting strategy that brings people back to your ecommerce site.
For more on using retargeting ads to target abandoned carts:
Conversion Rate and Average Order Value Optimization
Your online store conversion rate is the number of people who visit your site divided by the number of people who complete a sale. There are ways to increase your conversion rate by optimizing the user experience on your website to increase the likelihood of a purchase. Here are some strategies to increase conversions and sales:
Make your website easy to navigate. If potential customers find your website confusing, or if they have a hard time finding what they're looking for, they are more likely to leave without making a purchase. Consider adding a search feature so people can easily find what they want to buy. 
Include reviews and testimonials on all product pages. 27% of customers make purchases based on other people's reviews of products. When you include product reviews and testimonials, you make it easy for potential customers to gather the information they need to make an informed purchasing decision. 
Write detailed product descriptions with high-quality photos. Tell your customers everything they need to know about a product to purchase it. If a potential customer still has questions about how a product works or its quality after viewing a listing, there's a good chance they won't go through with the purchase. It's also essential to make sure your pictures are high-quality and professional. You may even consider adding product videos! 
Keep your checkout process simple. There are many ways you can optimize your checkout process to increase conversions, such as offering guest checkout, ensuring a mobile-friendly checkout, and offering multiple payment methods. 
Offer free shipping and returns. With these options, customers feel more confident purchasing your products. However, it might not always be financially feasible to offer free shipping on every order. Instead, you can offer it once a customer's order is over a certain amount to help balance the cost on your end.
Provide multiple ways for customers to get a hold of you. If a customer needs a question answered before making a purchase, it should be simple for them to contact you in multiple ways, including a phone number, email address or contact form, and even through online chat.
Include strong CTAs throughout your ecommerce site. Make it easy for customers to take action on your site by including a big, bold CTA (call to action) button where relevant, such as on your product pages ("Add to cart") and checkout page ("Complete purchase").
For most ecommerce brands, upselling and cross-selling to your existing customers can be more cost-efficient than continually chasing after new customers and new sales. Here are some ways you can make the most out of every customer visit:
Upselling. If you've been to McDonald's, you've probably heard of the phrase "Would you like to supersize your order?" That's upselling at work, which is essentially promoting an upgrade or selling a more premium product than the one the customer was about to purchase. For upselling to work, make sure that: 

The premium product you're suggesting is related to the original product
You're aware of the anticipated price range of your customer
Cross-selling. Cross-selling is the practice of suggesting additional products that may go hand-in-hand with the products that the customer is purchasing. That's the "You may also be interested in…" box on checkout pages. It's a great way to introduce your customer to additional items that they may not have considered or known about. 
Personalization
Nowadays, we're so inundated with ads, so the ones that catch our attention are frequently the most relevant to our lives. That's where personalization comes in, a marketing tactic of catering to specific customers based on their behaviors, interests, and desires. Some surveys have found that companies using personalized marketing see their revenues increase 6-10%. 
Personalization can come in many forms, including:
Product recommendations
Promotional offers
Ad groups
Including a customer's name in the email subject line
If your customer journey is a lengthy one, consider using personalization to move shoppers down the funnel quicker since they'll be spending less time searching for the products they need. Two of the best ways to get personalized content in front of your audience are email marketing and targeted ad campaigns.
For more on personalized marketing:
Leading Brands: Delight Your Customers
With success comes great pressure. When you become a leading brand, you need to continuously engage your existing customers and attract new ones while striving for more revenue. Use these tactics to achieve more growth: 
Customer Service and Support
To make sure your customers are satisfied, you'll want your customer service and support to be a well-oiled machine that answers every question and solves every problem. But beyond adding a FAQ page and help desk email address, you can also add a live chat widget to engage directly with shoppers on your site. Whether you decide to use human customer support agents or a bot, live chat is a great way to provide answers ASAP, making customers more likely to follow through with their purchase rather than exit to find solutions themselves. 
For more on social media customer service:
User-Generated Content
Ah, user-generated content (UGC), also sometimes affectionately known as free marketing. Launch a UGC marketing campaign to give your existing customers a way to share and showcase your products to prospective customers. Doing this offers multiple benefits to your online store because it:
Drive more traffic to your digital storefront 
Increase the reach of your brand
Develop social proof and trust
There are many forms of UGC campaigns, including:
Competitions. Ask customers to share a post of your product for a chance to win a cool prize. 
Social media hashtags. Users submit content using a branded hashtag, knowing that they may be featured on your social media profile. (If you have a ton of followers, it's great exposure for them, too!) 
Review platforms. You can encourage customers to leave a review of your product and receive a small discount or free shipping on their next purchase. 
With 54% of shoppers trusting information from online reviews and peer recommendations (compared to 20% who trust the brand's content), UGC is one marketing tactic you don't want to ignore. Plus, it gives you free marketing, as well as new content you can use on your social pages and ecommerce website.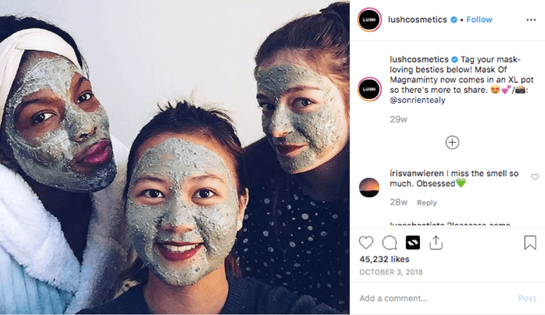 For more examples of great UGC:
Customer Marketing
Customer marketing is the art of developing customer relationships. This may sound surprising, but marketing doesn't end when a customer clicks the checkout button. Instead, when someone buys from you, your goal is to turn them into a repeat customer by engaging, nurturing, and delighting them. In fact, returning customers account for 22% of a brand's revenue, even though they're just 11% of the customer base. 
With customer loyalty as the key to long-term success, you can: 
Launch a loyalty program. How many times do you choose a brand over its competitor because you can earn rewards? A loyalty program, where you can redeem points, discount codes, or exclusive perks (such as free shipping), is a huge consideration factor for shoppers. 
Create a referral marketing program. Word-of-mouth is an increasingly powerful marketing tactic. A referral program, which unlocks a gift or discount for both parties, can incentivize your existing customers to recommend your brand to their networks. It's a win-win situation. 
Gather testimonials. For ecommerce retailers without a physical location for shoppers to evaluate products in-person, trust in the form of reviews and testimonials can go a long way. Testimonials are a compelling ecommerce marketing tool that can convince potential shoppers about the value of your products. 
For more on customer marketing:
It's Time to Sell
The possibilities for ecommerce marketing are endless. With so many tools, platforms, and tactics at your disposal, it's all a matter of strategizing, budgeting, optimizing, and thinking creatively to attract more customers and generate more growth. 
Make a plan to use a variety of marketing strategies, including organic marketing, like blogging, email marketing, and social media marketing, as well as paid marketing, including display ads and retargeting ads. You can also test various strategies to find what works best to reach and engage your target audience. Always track your efforts and analyze the results to make informed marketing decisions moving forward. Put more time and effort toward the strategies that work to drive traffic to your ecommerce website and increase your sales and conversion rate.
If you're feeling a little overwhelmed, consider choosing a martech solution that offers comprehensive features to help you manage it all. With AdRoll's ecommerce marketing solution, you can supercharge your growth through ads, emails, and targeting — all in one platform. 
Last updated on December 11th, 2021.