Introducing: Ecommerce Marketing Cheat Codes!
Topics Covered:
From tips and tricks to growth hacks, we marketers crave ways to increase our success that save us time, money, and personal energy. But let's be real — there are absolutely no silver growth bullets. Growing an ecommerce brand takes resources, strategy, creativity, and flexibility, plus a lot of grit and a bit of grace. But once you've got a solid, well-rounded marketing strategy in place, there are relatively quick and approachable experiments you can (and should!) incorporate into your execution to level up growth. This is the essence of what we're calling Ecommerce Marketing Cheat Codes, or sometimes more simply, just cheat codes. 
Before we get into precisely what Ecommerce Marketing Cheat Codes are and the experience you can expect with them, let's get extremely clear about why we're excited to be bringing cheat codes to the ecommerce community: 
It really comes down to knowing that every ecommerce marketer can grow their brand. 🚀 
And no, you don't need to be a rocket scientist or have a lot of resources to generate sales. All it takes is your willingness to experiment and a community that has your back. 
The good news is that you're in the right place. 😊
What Are Ecommerce Marketing Cheat Codes?
Noun: /CHēt kōd/
Sourced from marketers who've found measurable success through testing and experimentation, Ecommerce Marketing Cheat Codes are quick-to-read and easy-to-implement tips designed to help you grow your brand using fewer resources. 
In other words, they are tests for success! Cheat codes are small and approachable campaign experiments that have the power to motivate customer behavior, unlock revenue potential, and foster customer relationship development. 
It's really all about trying them out and learning what works best to grow your brand. 
What Makes Something a Cheat Code?
It's easy to understand, and implementing it is straightforward. 
It's proven to lead to incremental growth in the ecommerce community.  
It doesn't take long to implement. 
It doesn't require complicated technical management. 
It's measurable (e.g., has at least one KPI such as revenue, social engagement, email list growth, etc.) 
How Are Cheat Codes Different From Tips and Tricks or Best Practices?
While ecommerce marketing tips and tricks and best practices are certainly helpful, they often don't translate the information into practical and actionable steps at the campaign level. Ecommerce Marketing Cheat Codes do just that. 
They're also uncommon (e.g., they are not things that come up when you search for something like "email marketing best practices"). Each cheat code will contain these key elements, for the goal isn't to overwhelm your attention but enable your action:
A short explanation of what the cheat code is 
The straightforward steps you'll need to take to run the experiment yourself  
Guidance on how to measure its success 
Two High-Level Examples of Ecommerce Marketing Cheat Codes
1. Put an expiration date on  your new customer promotional code  
You likely already offer a discount when someone new subscribes to your email list after discovering your brand. The cheat code here is simple: add an expiration date to this offer. We've seen this with For Days, an AdRoll customer, and recently Naked Wines. Reminders throughout the welcome period are an excellent reason to reach out to the customer and motivate purchase.
2. Create an on-site quiz to personalize product recommendations and capture emails
Quizzes are an extremely customer-centric and reciprocal way of engaging shoppers and driving sales. After all, people love learning about themselves!
When you help shoppers do just that and then personalize their shopping experience based on their results, you create a win-win experience that fosters long-term relationship development, leading to revenue. 
Depending on which vertical your brand is in, this might look like:
💄 Running a skin-type quiz then recommending the most helpful skincare products 
👖 Having a series of questions that empowers shoppers to figure out how to find their perfect size without having to try the clothes or shoes on 
...you get the idea! 
This cheat code experiment is a natural path to collect net-new email addresses and send personalized recommendations. Your customers likely love quizzes, and they can easily implement them, too. 
Beardbrand has collected over 150k emails through their quiz. Quizzes also have a 50% conversion rate for lead generation!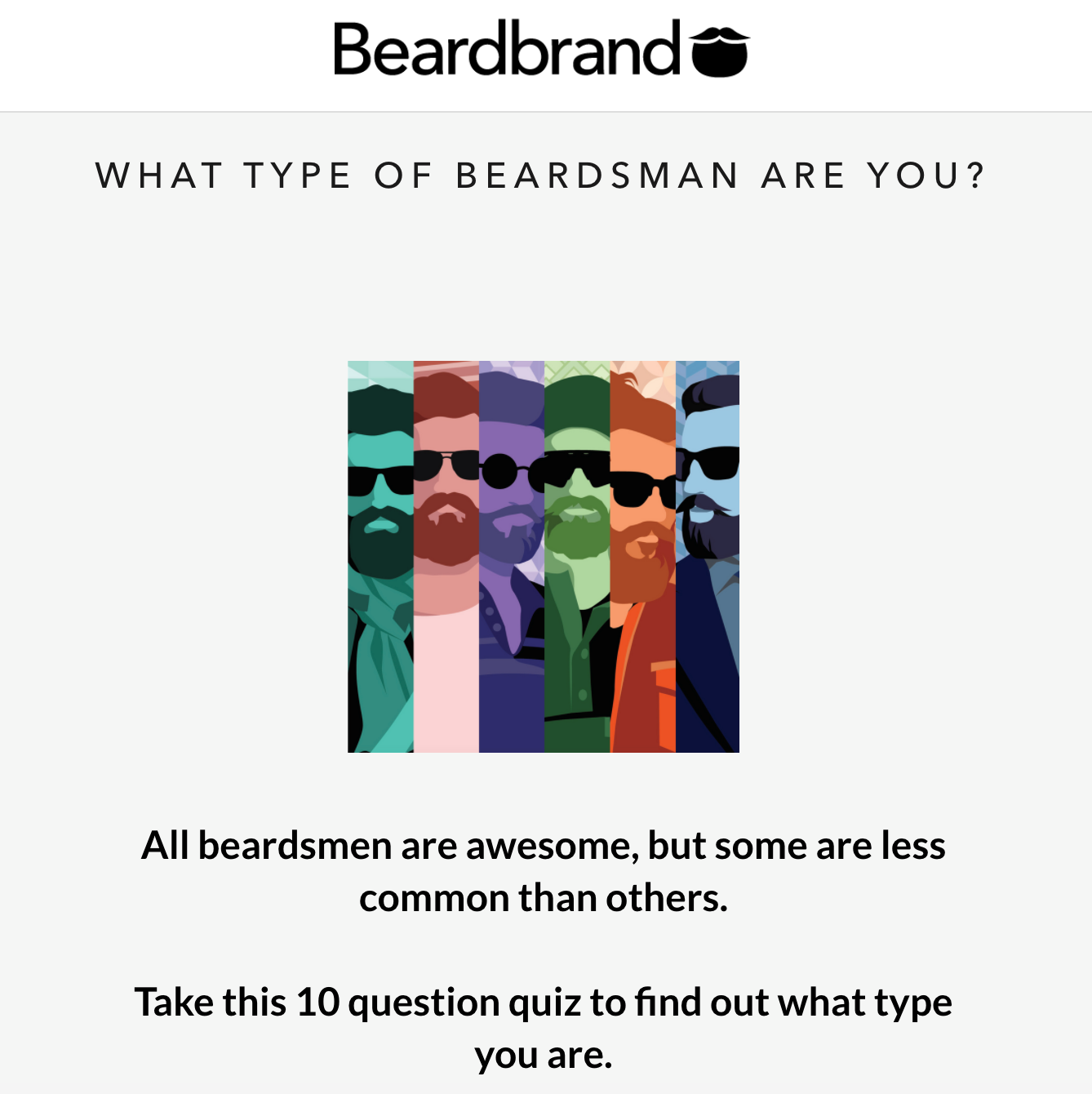 It's Time to Sign Up for Ecommerce Marketing Minute
Now that you have a feel for what Ecommerce Marketing Cheat Codes are, don't miss out on getting the community-exclusive cheat code of the month delivered directly to your inbox. 
After you subscribe, you will get a short, sweet, and practical newsletter delivered on the second to last Thursday of every month containing:
The subscriber-exclusive Ecommerce Marketing Cheat Code of the month ✨
Early access to resources that help you grow your brand 📈
Priority registration opportunities for limited capacity expert-led ecommerce marketing workshops, brand exposure and personal development opportunities, and community events 🤝
If you have any questions, want to share your thoughts about Ecommerce Marketing Cheat Codes, or have an idea for one yourself, please reach out to community@adroll.com! 
Originally published on June 1st, 2021, last updated on June 16th, 2022.