How to Find and Test Your Best Shopify Products: A Worksheet
Topics Covered:
Finding and testing your Shopify products is crucial to your store's success. After all, having an understanding of which products are clear winners will help optimize your marketing efforts — you'll want to feature them prominently everywhere, from digital ads to promotional emails. 
Yet, as your ecommerce brand grows, you'll soon realize that it's not easy to keep track of which individual products are your superstars. Sure, Shopify's interface will inform you of your top performers in terms of total units sold, but when you consider the value in terms of profitability, upselling opportunities, and social proof, that's where the analysis gets a little tricky. (Bad news for those not mathematically inclined, but you'll want to read on — there's no need to fret just yet.) 
So, where to start? There are two parts when it comes to finding and testing your top Shopify products: 
Conducting in-depth research on trending products and verticals before you start designing and manufacturing items. This ensures there is some interest in your product — you don't want to spend all your resources launching a product that shoppers don't need or want. 
Monitoring the popularity, profitability, and value of your product catalog. While it can get easy to find yourself lost in the weeds of the day-to-day tasks of maintaining your store, it's important to zoom out once in a while to get a sense of the bigger picture. 
Luckily, our goal at AdRoll is to make marketing simple for ecommerce brands. We've created this one-and-done worksheet to help you get started. Follow the steps below to find great products to sell and determine which ones are your most valuable. Then, armed with this information, you'll be well on your way to grabbing more market share, catching new shoppers' attention, and boosting your brand's profitability. 
Part I: Finding Amazing Products
We've covered all the ways to conduct product research — now, you'll be putting all this new knowledge into action. Using the information you've collected on popular products, fill out this table to uncover trends and opportunities: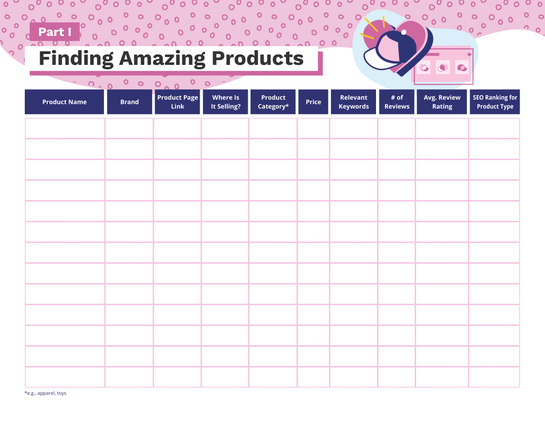 Part II: Testing Your Best Products
Now, it's time to determine your most valuable products. This will help plan your marketing, pricing, and operations strategies by: 
Featuring your best items on your homepage and ads
Including low-selling products in a bundle with popular ones
Figuring out which items to order more stock for
Finding the perfect product mix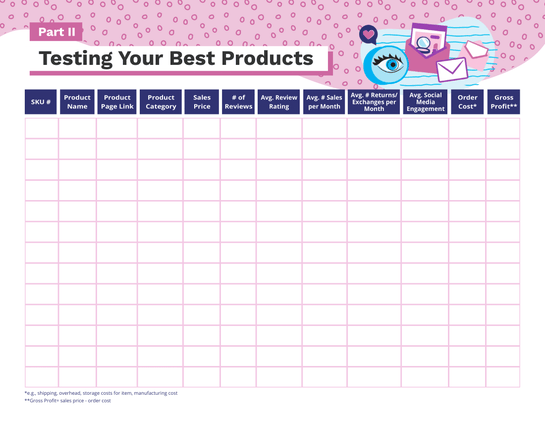 After you have all the relevant numbers, fill out this table to determine your most valuable products:

Need more help with your ecommerce journey? Check out the AdRoll integration for Shopify. 
Last updated on September 16th, 2022.