How Product Research for Your Shopify Store Can Reveal Best-Selling Winners
Topics Covered:
One of the biggest challenges ecommerce entrepreneurs face? Determining the best products to sell. While you want to tap into trending product lines with high demand, it gets tricky when you realize how fierce the competition can get. (And nobody wants minuscule margins!) It doesn't help that thinking too deeply about potential products can lead to analysis paralysis. Meanwhile, not conducting the proper legwork may mean stagnant sales. In other words, comprehensive product research for your Shopify store plays a huge role in the path to success. 
As always, we're here to help: Here's everything you need to know about researching potential products, finding best-sellers, and determining your winners. 
How to Conduct Product Research for Shopify Stores
As any Business 101 textbook will tell you, the answer to developing a popular product always involves solving a customer pain point. While we've compiled plenty of resources on understanding your target audience — which you can check out here! — determining product opportunities can still be an intimidating task when you're starting from scratch. 
That's where product research for your Shopify store comes in. There are numerous ways to peek into what shoppers need and want — here are a few of our favorite ones:
Social listening
While it's helpful to invest in social listening tools such as Sprout Social and Hootsuite, you can use social media to catch a glimpse into potential customers' lives — it's as simple as following trending topics on Facebook or popular hashtags on Twitter. Take note of your target audience's comments on things like news articles or your competitors' posts.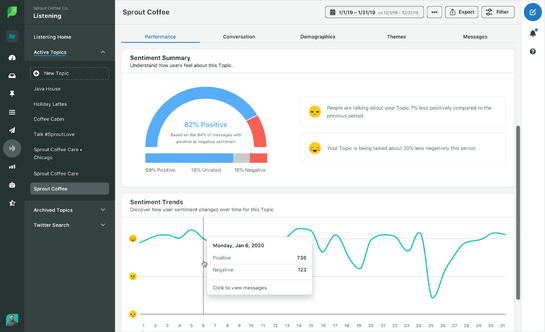 Google trends
Google Trends is a reliable tool that helps you understand the popularity of specific topics (or, in this case, products) over time. Is there a niche that's steadily gaining interest? Determining trends is the first step to product research for your Shopify store.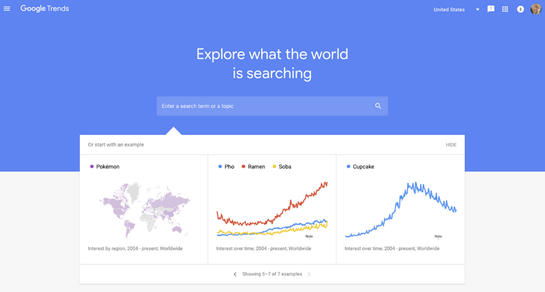 Trend hunter
Trend Hunter works similarly to Google Trends, except rather than only serving as a search tool, it also aggregates consumer insights and new opportunities based on data, AI, and its curation team. 
Customer reviews
For those who have already launched your brand, your customer review section is a treasure trove of insight. Comb through it while asking yourself:
Are there any recommendations for future products?
What are some common complaints or negative feedback that are being shared? What are your areas for improvement?
Are there add-ons or adjacent products that customers wish you offered? 
If you have yet to launch your products, customer reviews can still be helpful — just head over to your competitors' pages and conduct a similar audit. 
Keyword research
By now, it's no secret that SEO plays a significant role in the success of ecommerce brands. Luckily, the work you put into researching keyword opportunities for product development can be reused later when optimizing your product descriptions. By aligning product demand to existing keywords, you can guarantee a consistent amount of organic traffic from search engines — meaning more shoppers, more sales, and more conversions. 
Google Keyword Planner and Semrush are just two of the many tools you can use to determine product opportunities from keywords. You'll want to pay special attention to:
The search queries potential customers are using
The number of searches per month
The competitiveness for those searches
Pro tip: If you're wondering about the keywords potential customers plug into, say, Amazon, we applaud you for thinking one step ahead. To tap into these additional sources of keyword data, you can check out tools such as Keywords Everywhere, KeywordInspector, and EtsyRank. 
Best-selling lists
While we highly recommend you conduct a detailed keyword analysis, for a quick glimpse of trending products, you can also navigate directly to different platforms' best-selling lists. Sites like Amazon, Etsy, Kickstarter, and eBay all compile pages that show "What's Hot," "Most Wished For," and "Movers and Shakers."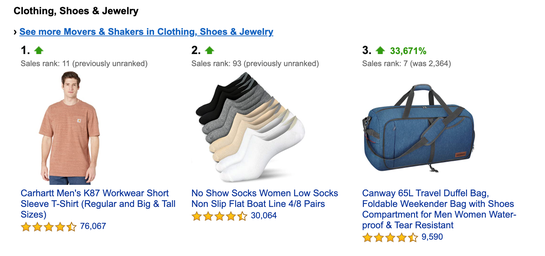 Keep in mind that products move on and off these lists very quickly. While this can be handy in determining popular product lines and verticals, a product may no longer be trending by the time you get yours designed, manufactured, and promoted. 
How to Find Your Most Valuable Products
Once you've got your product line nailed down and your products on your virtual shelves, what's next? How do you know which ones to feature on your homepage or ads?
It may seem obvious to promote your most popular products in terms of units sold, but they may not actually be your most valuable products. So, here are a couple of pointers to keep in mind when determining your Shopify winners:
Popularity. Your best-selling products are popular for a reason. The greatest part about featuring your best-sellers is the social proof surrounding the total number of reviews. 
Reviews and ratings. Your most highly rated product may not be the most popular one. Consider promoting products that shoppers clearly love.  
Profitability. Some products are cheaper to manufacture, store, and ship than others. Are there certain products with much larger margins that deserve the spotlight? Which one of your products makes you the most money? 
Upselling opportunities. Which products are the most conducive to shoppers adding lower-selling products to their cart or purchasing add-ons like customization and warranties? 
Remember: Value can be defined in many ways. As with most other things in ecommerce, it's all about testing, testing, and testing some more to see what works best. Armed with this information, you can adjust your marketing approach or even experiment with your pricing strategy. 
Plus, for an ecommerce brand to succeed, it's crucial that its leadership team recognizes trends early and identifies the products that are key to growth. And luckily, with these guidelines, you're all set when it comes to product research for Shopify growth. Congrats! 
Need a partner to help you get started with your ecommerce journey? Check out the AdRoll integration for Shopify! 
Last updated on September 16th, 2022.