How Marketing Analytics Should Evolve to Provide Actionable Data
Topics Covered:
It's a miracle when a business becomes successful without investing in analytics. Mostly because it's incredibly hard to grow without keeping track of your company's data. Case in point: Every business needs reliable marketing analytics, which in turn help drive tactical and strategic decisions. The more attention and effort you dedicate toward it, the clearer and more informative your insights will be.
As the CEO and founder of Improvado, a marketing analytics middleware company, I see numerous marketing analytics implementations across various industries, businesses, and scales. 
No matter what kind of company you run, actionable data is the key to growth. And growth generates more sophisticated data, which should also help evolve your marketing analytics.
This article will describe how your marketing analytics technology stack should progress to fit your business growth. I'll conveniently classify the marketing analytics evolution into five stages, and I'll also explain what your marketing analytics needs should be. Plus, read on for some helpful tips and tricks, along with things to watch out for. 
Stage 1: Basic Analytics
At the founding stage, you likely have no resources and no time, let alone enough capital to afford a data warehouse or business intelligence (BI) platform. The good news? You don't need anything like that. Your business should be small enough to allow you to pay close attention to every detail. You can stay informed without an analytics tool — all you need is to ensure you're measuring your product and its users' interactions.
Marketing data flow generated by small businesses can be successfully tracked with Google Analytics (GA). At this stage, GA is enough in most cases. You can see the results of your SEO efforts, track bounce rates, view the number of sessions in a given period, check session durations, examine the number of visits, see goal completion (conversions), and access other basic metrics.
Alternatively, if your business model is based on subscriptions, use Baremetrics. If you're an e-commerce business, use your shopping cart platform to measure GMV.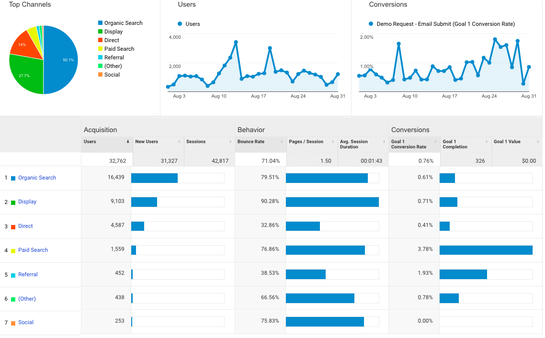 From: Improvado
Stage 2: Attribution Model
In theory, your team will grow as your digital marketing campaigns grow in size and complexity. Therefore, at this stage, you need to deepen your analytics with UTM-tracking, user cohorts, and user paths on website analysis.
Every marketing effort should be accountable. (Pro tip: Make sure your subdomains aren't double tracking.) Still, Google Analytics is good enough to use in most cases. However, if you need cross-device tracking, you may find more advanced tools like Mixpanel or Heap helpful.
Otherwise, don't stress over affording a data warehouse, BI platform, or full-time analyst — you still don't need any of them anyways.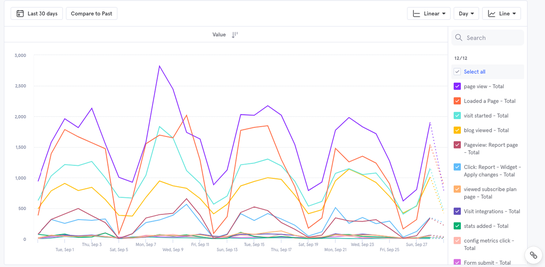 From: Improvado
Stage 3: Data Infrastructure
This is when the size of your team exceeds 20 people and grows quickly. Data flow volume and complexity will grow even faster now. So, this means you have an increasing need to make your analytics more in-depth, flexible, and reliable.
If you don't have a CRM system, it's time to get one. (Pro tip: Salesforce is a good choice.) At this stage, you also should set up:
A data warehouse. Consider Redshift or Snowflake.
An ETL tool, such as Improvado.
A BI tool. I recommend Looker, Google Data Studio, or Tableau.
The tools mentioned above are somewhat costly and can be difficult to set up. That's why you'll need to hire a strong analytics lead and some technical experts. Strong analysts are hard to find and can be costly. However, it's surely worth investing some time and money into both infrastructure and experts.
Make note: Don't build your own ETL (exact, transform, load) data pipeline. It may become a black hole for your time and money. It's much safer to buy a ready-made solution instead.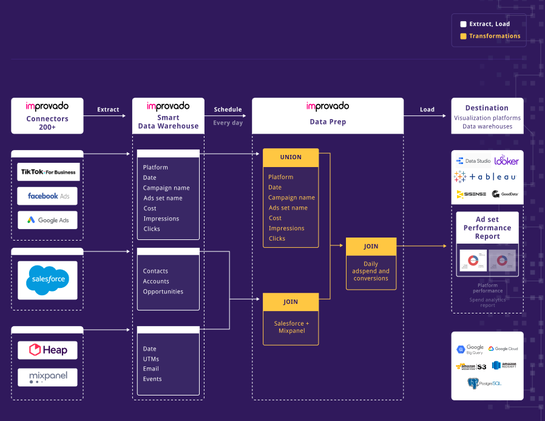 From: Improvado
Stage 4: Medium Business
This is where it gets serious. At this stage, you still have a relatively small team of 50 to100 employees, and your financial resources are likely still narrow. But the challenges you face are increasingly sophisticated, as is your burn rate. Mistakes are more costly than ever before.
Implementing a proper attribution model and end-to-end analytics is crucial now. Your sales and marketing teams need an actionable flow of data immediately.
Data visualization and BI tools offer real benefits, so it's worth investing in such tools at this stage. Consider strengthening your BI team, too — this will help you remain on pace with your company's growth.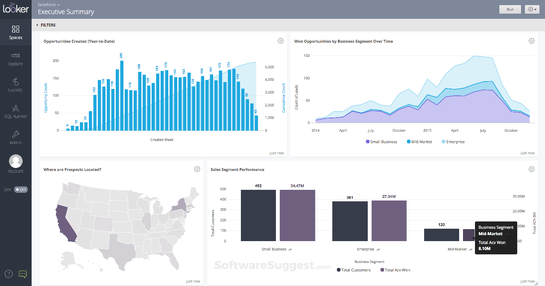 From: Improvado
Stage 5: Scaling to Enterprise Marketing Analytics
At this stage, everything is about scalability. Your team will grow from 100 or 150 employees to 500 or more. Furthermore, data flow and complexity of sales and marketing activities will continue to increase.
You should be prepared to manage this transition well: hire more analysts, and ensure they're well-armed with the tools needed to succeed. Plus, increase your data warehouse capabilities in advance, and implement the process of data pipeline testing and code reviewing. Keep your documentation up to date and manage your company knowledge well.
Another tip: As you scale into the enterprise stage, you may need to hire a consultant — or even a few.
A Killer Competitive Advantage
It's relatively easy to make the recommendations above but hard to actually follow them. It won't be an easy process for anyone. Actually, many companies struggle (and often fail) to do this well. 
However, the more you try, the better you'll do, and the stronger your main competitive advantage will become. The advantage I'm talking about is the quality of your decision-making.
All I can say is, the rewards will make investing this kind of effort worth your while.
Last updated on September 16th, 2022.