Flash Sales 101: How Shopify Plus Merchants Can Get Started
Topics Covered:
Ready, set, shop! Q4 is the ultimate time for snagging goodies for a great price — especially if you're ready to go all out like a participant on Supermarket Sweep. Best of all, thanks to the explosion of ecommerce, you don't even need to queue up overnight in retailers' parking lots and jostle other shoppers to grab what you want. (Anyone else feel that burst of dopamine when you conveniently receive a package right to your doorstep?) 
When it comes to your Shopify store, flash sales can do wonders for growing your bottom line. It's a great opportunity to drop exclusive products, unload out-of-season inventory, and use other urgency tactics to encourage new and returning shoppers to buy, buy, buy. No wonder Shopify merchants saw a total of $5.1 billion in sales during 2020's Black Friday and Cyber Monday sales. 
So, how can Shopify Plus brands make the most of this sales-frenzied season? Two words: ad strategy. Here's everything you need to know about promoting your flash sales to boost conversions. 
Flash Sale Ad Types
To generate hype around your flash sale, launching run-of-the-mill ads that resemble your usual ones won't cut it. Instead, you'll need to add a bit of pizzazz in terms of imagery, copy, and even the ad type. (Pro tip: With a partner like AdRoll, creative ad options that have proven to convert are just a few clicks away.) 
Countdown timers
Don't limit countdown timers to your site's homepage banner. You can put it in an ad to drive awareness of your flash sale, too. A countdown timer is one of the easiest ways to say, "Hey, time's running out… place your order now before it's too late!"

Promotional emails
Emails are one of the best ways to nudge shoppers' toward your Shopify store. When it comes to promoting your flash sale, you'll want to design a sequence that generates interest and excitement over time. One survey found that emails sent within 24 hours of a flash sale can help increase conversion rates by 35%. 
We recommend developing these three emails (at the very least):
Pre-launch: Build anticipation by giving them a teaser of what's in store 

Launch day: Use everything you can to encourage them to visit your store and take advantage of what's on sale

Last chance: This is your opportunity to induce some FOMO (fear of missing out) and promote scarcity. Terms like "your last chance," "ends in one hour," or "hurry!" are what you'll want to use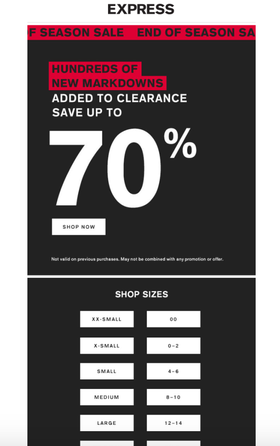 Abandoned cart ads and emails
It's time to take your abandoned cart ads and emails to the next level by updating your existing retargeting copy to drive home the time-sensitive nature of your flash sale. A "your cart is expiring soon" message hits differently when you realize these great deals won't last. 
Product recommendation ads
An ad promoting a store's flash sale is great, but it's a whole other world when you see a promo that includes on-sale products curated specifically for you. By including personalized product recommendations, you're taking your targeted ads' relevancy up a notch. 
Top Tips for Success
The key to your marketing efforts is conveying the essential details of your sale right from the start. People love a good deal — and by simply stating the time sensitivity of your promotion, you'll instantly grab more attention. Make sure your ads:
Prominently feature your promotional offer and simplify it if possible. Nobody wants to calculate whether "$15 off $30" or "25% off $200" is a better deal 

Include an end date and time to drive urgency

Have a bold and strong call to action (CTA) 

Make all images clickable 

Keep the rest of the copy short and concise — you want the offer to steal the show!
Get Selling With Shopify Plus and AdRoll
It's time to say hello to products flying off your (virtual) shelves — if you're planning on launching a flash sale this holiday season, don't be afraid to contact your Merchant Success Manager or the Shopify Plus support team for guidance on how to prepare your online store for the wave in sales. (Pro Tip: With Shopify Plus's Launchpad, you can quickly put your flash sales on autopilot.)
Ready to get started on preparing your flash sale ads? AdRoll has you covered. Reach out to an AdRoll marketing specialist and learn how we can save you hundreds of hours while maximizing your marketing budget for the most conversions. 
Last updated on November 15th, 2021.