4 Retargeting Strategies to Help You Convert Leads
Topics Covered:
Want an easy step-by-step guide on how to create an A+ retargeting campaign that helps you successfully convert leads? You've come to the right place!

Here are four strategies to implement today.
1. Educate New Users With Product-Focused Content
Product-focused content like case studies, calculators, and product overviews can help bring people who are interested in your product a little closer to buying — or even drive them to convert.
Real-world example: AdStage
Encouraging users to take action can require multiple touches, and sometimes emails aren't opened. According to marketer Hannah Lennett of AdStage, a pay-per-click (PPC) reporting platform, users "are often hesitant to start using our Automate product because they are not familiar with PPC automation." AdStage uses retargeting to show new users a blog post that educates them on how PPC automation works.
Targeting tips for content-driven ads
When you advertise educational content, you're asking people to do some work. Content-driven ads are often most effective when aimed at new users who are excited to try your product. That being said, you don't want to get in the way of new users who don't need additional education. Find a way to eliminate this group when you target your ads.
2. Create Urgency With Discounts
Retargeting ads are a great way to offer discounts, which create urgency in a sale. Discounts usually include expiration dates or are found on one page and gone on the next, so they motivate customers to act quickly.
Real-world example: Udacity
Udacity, a platform for online courses, offers periodic discounts to generate new course sign ups. Their ads are straightforward, featuring strong call-to-actions (CTAs) like "Get 20% off any Nanodegree Program, now through Sunday!" The clear and fast-approaching expiration date makes users feel the urgency to buy.
Targeting tips for discount-driven ads
Segment your audience by targeting ads toward users who have started to engage less frequently — discounts can help bring them back. They can also entice new users to buy. But don't over-advertise your discounts; if you offer them too soon or too often, you'll lose revenue from customers who would have paid full price. They can also cheapen the perceived value of your product, so avoid offering them to users who signed up and never did anything.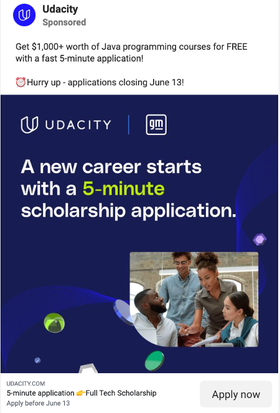 3. Promote Product-Demo Webinars
Webinars are an effective way to demonstrate your product. They are one-to-many and visually engaging, and — unlike sales demos — they let viewers stay somewhat anonymous. If your marketing team is focused on providing air cover for sales or running a self-service business model, advertising a webinar with retargeting ads can help convert new users.
Real-world example: TrackMaven
TrackMaven, a marketing analytics software company, offers webinars that address particular pain points that their product solves. Rather than selling the product directly to customers, their retargeting ads feature upcoming webinar details and focus on bringing value to new users, which helps prospects who are kicking the TrackMaven tires to become seriously interested.
Targeting tips for demo-driven ads
Demo ads are a lot like content ads. You should consider offering them up front, when users are still motivated but not yet convinced to buy. But you may not want to advertise demos to users who are doing everything right on their own. If they don't need the information, it could slow them down and become a waste of your money.
4. Make a Last-Ditch Effort
When you've exceeded your average free-to-paid period, or after a free trial is over, it may still be worth reaching out to prospects.
Real-world example: Rival IQ
Rival IQ, a tool for competitive analysis, uses retargeting ads to make it easy for new users to continue working with the product after the free trial has expired. On top of the offer to extend the trial, Rival IQ offers a discount on their pay-as-you-go plan. This bonus offer may well be the push new users need to re-engage.
Targeting tips for last-ditch ads
Find the users who didn't buy but behave like — and share demographics with — those who did. You can keep your spend down by targeting last-ditch ads to these users only.
How Do You Measure Your Campaign Effectiveness?
After following each of the retargeting campaigns' best practices, it's vital to measure the effectiveness of your efforts. Clearly tracking the path a user takes from your ad to its conversion action will show you how engaging the ad is. Further, you can compare users who complete the action to users who don't to measure how the completion of that action affects conversions.
A/B testing your bank of ads may be the best way to measure campaign effectiveness. When you A/B test, half of your users see one set of ads and the other half see something different. You can then compare your conversion rates between the two groups to better understand the value of your retargeting campaigns and the effectiveness of your spend.
Launch Your Retargeting Campaign With AdRoll
Create retargeting ads that work for you and get customers back to buying.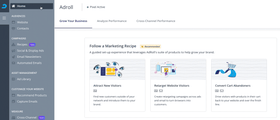 Create your own effective retargeting strategy! Download our beginner's guide and you'll learn about common ad types, best practices, and more.
Last updated on September 16th, 2022.