Construction Marketing: 7 Strategies to Increase Conversions
Topics Covered:
For those in the construction industry, marketing may not be at the forefront of your everyday priorities. Yet, whether you're in the business of renovating single-family homes or commercial construction, marketing should be on your mind — especially if you're looking to grow your profits. 
The construction industry already comes with its unique challenges, including tough competition, hiring difficulties, and consumers' general wariness from construction horror stories. Good thing we're here to help tackle all of that and more through seven fool-proof construction marketing strategies to boost conversions. 
Update Your Website
Studies have found that more than 63% of customers will use a contractor's websites to learn more and engage with them. On the flip side, 30% of customers will not even consider a business without one.
It's clear that having no website — or even worse, an outdated or poorly designed one — can significantly hurt your business. While we have a ton of resources that'll help you optimize your site, here are the top tips to remember:
Make it mobile-friendly. Mobile accounts for nearly half of all web traffic worldwide. 
Keep it simple. Don't inundate site visitors with information — use headers and images to break up big blocks of text. 
Navigation must be intuitive. Having an easy-to-use navigation bar and prominent call-to-action (CTA) buttons can encourage site visitors to take action. 
Make it attractive yet clean. We're talking fonts, colors, graphics, and images. Try not to go overboard with widgets, either. 
Showcase your portfolio. Site visitors should quickly get a sense of what your construction company can do for them. 
Feature contact information across all pages. You want people to reach out, right?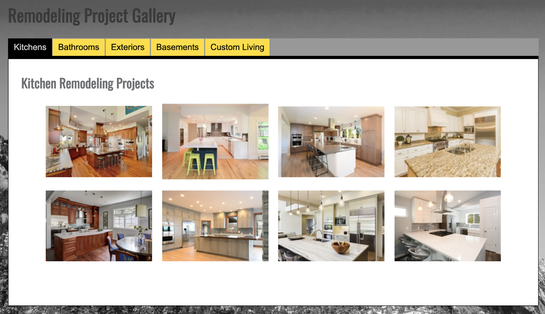 Trust us: a great website will lead to more leads — it's not something you'll want to skimp time or money on. 
Invest in Branding 
A major part of construction marketing is differentiating yourself from competitors. Here's where branding comes in, which includes:
Slogan or tagline.
Distinctive brand tone and voice. Are you funny or serious? Casual or formal? 
Brand colors and fonts — with clear documentation on when/where they are to be used.
Unique images. While using stock images can simplify your marketing process, having real pictures of your team and business can make your brand feel more personable and authentic.
A consistent and recognizable brand will form the basis of all your other marketing materials, from your website to digital ads to business cards. 
Remarket Past Customers
While brand awareness campaigns are immensely useful in a construction marketing strategy, there are a couple more ad tactics in your toolbox that can boost sales. One of our favorites? Remarketing to past customers. 
Happy customers are the gift that keeps on giving — not only will they come back for more, they'll also encourage their friends and family to support your business. In other words, simple acts of reaching out or following up via a friendly remarketing message can go a long way. 
Whether you renovated a family's home a few months ago or built a commercial property from scratch a few years ago, consider dropping them a line to see if they have any upcoming needs that they can use your help with. Not only could this lead to more business, but it'll also keep your brand top-of-mind, at least for a little bit longer. 
Develop Video Content
Here's a fun fact: One-third of all internet activity has to do with watching videos. That's great for brands that have developed video content — video leads to a whopping 157% boost in organic search engine traffic!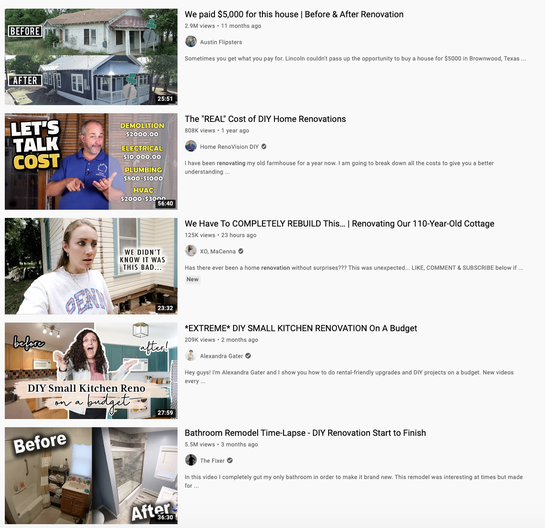 There are many ways you can leverage video content as part of your construction marketing efforts. Some quick ideas:
A time-lapse of a construction project
A video tour of a finished build
A fun behind-the-scenes introduction of the members of your team
People love the satisfaction of before and after videos — and as a construction firm, you've got unlimited content at your fingertips. The key to successful video content is keeping it engaging: graphics, effects, fast-paced cutting, and genuinely interesting content. Don't think of your videos as a chance to sell, but as a source of entertainment or information that compels viewers to learn more about your business. 
Leverage Content Marketing
Similar to videos, content — such as blogs, ebooks, or how-to guides — can also play a useful role in your construction marketing strategy. 
Think of it this way: People do a lot of research before engaging with a construction firm. (After all, everyone's nightmare is a super delayed construction project that's wildly over budget.) Free content that establishes your expertise and credibility can help build trust with potential customers, as well as attract new ones at the top of the marketing funnel via SEO. 
You can:
Design a guide to the pros and cons of popular construction materials
Develop a checklist on what commercial property owners need to prepare before starting a construction project
Write a blog about different architectural home styles
For more on creating actionable resources and content, check out this guide. 
Feature Reviews and Testimonials
Another huge way to build customer trust is featuring reviews across all your construction marketing efforts. Once again, happy customers are your most powerful marketing weapon — today's consumers are way more susceptible to testimonials and words of other consumers compared to branded messages. And whether you like it or not, new leads will seek out reviews before reaching out. 
To make the most out of the reviews and testimonials you've received, you'll want to:
Feature your five-star ones on your website, marketing emails, and digital ads.
Reply to every review — whether positive or negative — on third-party sites, such as Yelp or Google My Business, to show that your business values customer satisfaction. When addressing negative reviews, remain non-confrontative and offer something (such as a discount on their next project) to customers who have voiced a valid complaint. 
Encourage happy customers to leave a review once their project has been completed. 
Launch Digital Ads
Local businesses love digital advertising for a reason: It works. Most ad platforms promote you to the right audience, allowing you to collect more qualified leads. For construction marketing, we recommend:
Google Search ads. Your ad will be displayed to users who are Googling relevant keywords. 
Google's Local Service ads. Your ads will pop up for users in your specific area who are searching for, say, "construction company near me" or "local contractor."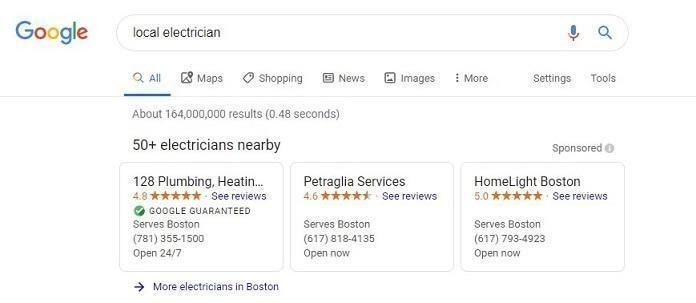 If you're unfamiliar with launching your ads, we've got good news: Here at AdRoll, we use machine learning and a trove of data to take the guesswork and learning curve out of the process. Check out how we can turbocharge your ads (and marketing).
Ready to Build Your Marketing Strategy?
There are two main challenges for construction marketing: rising above your competitors and building trust with your potential customers. These seven tactics will keep you well-equipped to handle the heat, attract new customers, and see the projects roll in. 
For more ideas on how to transform your business into a conversion machine, check out AdRoll's Marketing Resource Library.
Last updated on September 16th, 2022.