An All-Levels Guide to Improve Shopify SEO With Tools and Resources
Topics Covered:
Ready to embark on the journey toward more clicks and conversions? You've come to the right place. Though there's nothing wrong with charging right into all the tasks and processes needed to boost your SEO, why not work smarter, not harder? After all, as an ecommerce marketer, you have enough on your plate. 
If you haven't already, make sure to first check out our guide for improving Shopify SEO, featuring optimization tips and ideas. It's divided by skill level, so regardless of whether you're a beginner or expert in the world of SEO, you'll find it useful.
Then, scroll down this page to find a list of every SEO tool and resource you need to check off all those items on your to-do list, from MarTech tools and solutions to podcasts that'll deepen your knowledge on the science of SEO.
The best part? All these tools are free to use (or offer a free trial). Although you may gain access to more functionality from pricier alternatives, these platforms are a great place to get started, especially if you have a limited SEO budget. 
From there, it's up to you on whether or not you want to pay for an upgraded tool with more features — but, as always, test different options before committing to a particular one.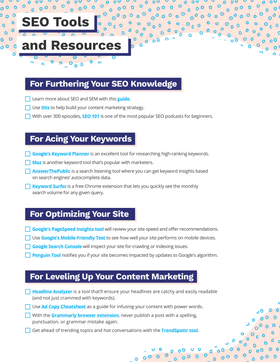 Whether you need to research keywords, learn more about content marketing, or optimize your site, we've got you covered with the AdRoll Marketing Resource Library. Once your site is optimized, make sure to check out the AdRoll app for Shopify merchants. It's the ultimate tool for growing brands looking to reach new audiences, boost clicks and conversions, and further their brand awareness. 
Last updated on February 23rd, 2022.