8 Sales Funnel Examples That Boost Conversions
Topics Covered:
Particularly in the world of ecommerce, sales funnel examples tell us a lot about consumer behavior. Think about your favorite online retailer — the one you purchase from most frequently. You love their products, you recommend them to friends and family, and you've even reviewed them.
While they might be the first name in your bookmarks today, there was a time when that wasn't the case. A time when you didn't even know who they were. Then, something changed. Maybe you saw a social ad you couldn't resist clicking or found the brand through a Google search. Either way, it worked!
Any ecommerce brand looking to make money online needs to understand how these journeys look for their customers. But before we jump into a couple of real-world sales funnel examples, let us talk about what exactly a sales funnel is and why it is essential for a business.
A sales funnel (or a purchase funnel) is the journey a customer makes with a company from the point of discovery to the point of purchase. The company has ideally outlined that journey for the customer without the customer even knowing it. This would mean that from the time you discover Nike as a brand to the time you buy a pair of fabulous shoes, a sales funnel is at work. 
Stages of the Sales Funnel
You may be asking, "How many stages does a sales funnel have?" Well, that depends. In most cases, it is safe to say that a funnel is limited to four to five steps that look something like this: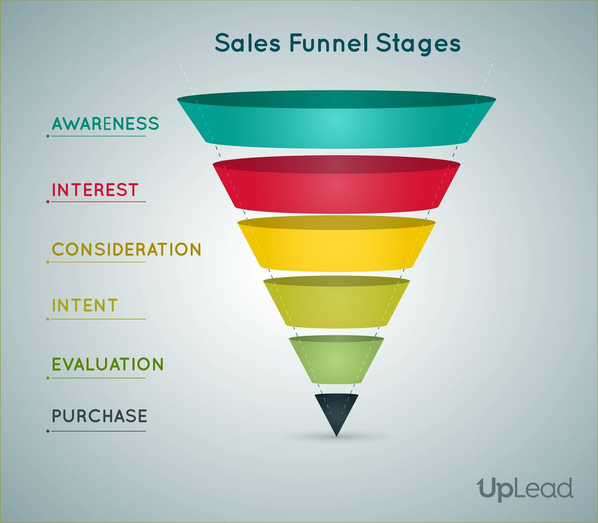 Let's breakdown some of these steps:
Awareness
Here is where your customer discovers what your brand is all about, your mission, what you sell, etc. This happens typically through your marketing efforts like creating blog posts, sending out cold emails, hiring influencers, creating podcast episodes, brand awareness ads, and more. Your ideal customer is discovering you exist and becoming aware of your brand.
Interest
Now, your company will try and foster a relationship with your newly discovered prospect and discover what their needs are. This could be through retargeted ads on social media, email marketing, surveys, and more. You are creating a relationship with your prospect and understanding their needs.
Consideration
Now that you know your prospects' needs, you offer them a solution (your product or service). You would do this on a small scale at first, whether that is a free trial or a freebie with purchase. 
Intent
When the service or product is a big-ticket item, the "intent" stage comes into play which essentially means negotiation. You will discuss the product or service being bought and finalize the purchase with the prospect.
Purchase
Here is where you try to get your prospect to purchase after you have offered your freebie or free trial. You could make it more tempting by offering a time-sensitive discount or something similar. For example, you could offer them a discounted price if they refer a friend that makes a purchase.
Loyalty
Your best new customers are your old customers, which means making sure they are happy with the product, giving them excellent customer service when needed, having a well-handled loyalty program, and pitching new products to them down the line. For example, if you send them a physical product such as a book or any product that needs to be mailed, you can include a QR code on the packaging that leads them to a landing page with a time-sensitive discount.
Now that we know what a sales funnel is, let's talk about some examples to consider and what makes each approach effective.
Sales Funnel Examples
Example 1: Driving Email Opt-Ins Through Pop-Ups
For all brands, the best chance of monetizing visitors is to get their email address as soon as possible. That way, it can target them with promotional content down the line. Grabbing someone's email address the moment they walk through the virtual door allows brands to swiftly move on to the interest stage of the funnel, where they can get to know the customer and understand their needs.
Let's see what this looks like for a first-time visitor at the Moma Design Store: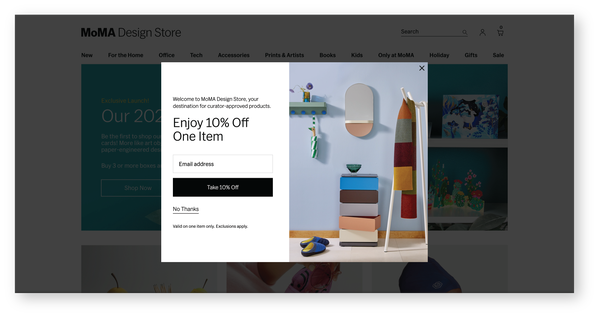 Example 1: Driving Email Opt-ins Through Pop-ups
Prompting email capture on your website is the fastest way to move users from Awareness to the Interest stage.
The second you land on the MoMA Design Store homepage, you're prompted to enter your email address. This kind of flies in the face of UX best practice — why would you ever hand your email over to a brand immediately after landing on its site for the first time?
Yet with the MoMA Design Store, this approach works because it has multiple reasons why you should sign up:
To save up to 10% on hundreds of items

To discover curator-approved products from artists and designers

Because shopping is easy and safe
There's no middle ground here — you'll likely either sign up or run a mile. The MoMA believes it's worth the risk because email addresses are so integral to its offering.
Example 2: Creating Urgency With Social Ads and Landing Pages
Social ads are big business, with Facebook alone earning more than $84 billion in advertising revenue in 2020.
While social ad campaigns can be highly effective, they're not a license to print money. The world's most compelling, engaging ad won't yield results if potential customers are clicking through to a clunky, unattractive, confusing landing page.
The point here is that social ads and landing pages go hand in hand and have become one of the most common sales funnel examples. Mattress brand Zoma shows us how to do it well. 
Most people would agree that mattresses are a big-ticket item. Traditionally, they're the sort of product you'd spend plenty of time researching before committing to a purchase.
However, many direct-to-consumer (D2C) mattress brands have sought to speed up the path to conversion in recent years. Zoma does this through the intelligent use of ads and landing pages.
Here we can see a social ad that prompts the user to take action by touting 30% off.
When you click the ad, you're taken to a landing page and presented with a further, time-limited discount, accompanied by a countdown clock.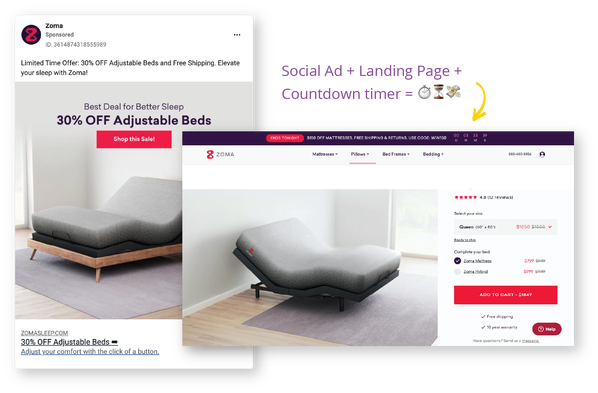 Example 2: Creating urgency with Social Ads and Landing Pages
Using Social Ads and Landing Pages with countdown timers can accelerate customers through to the Purchase stage.
Effectively, Zoma is saying, "Sure, you could shop around. But then you'd miss out on this amazing offer!
This is an excellent example of the awareness stage of the funnel. Zoma is capitalizing on the first contact that it is making with a customer by creating a sense of urgency with their time-sensitive discount and countdown timer.
Example 3: Building Awareness Through Content Marketing
Whereas ads are typically best for brands looking to make money fast, content marketing can be more of a slow burn. That doesn't mean it's any less effective — indeed, content can yield results for months or years to come, whereas ads stop working the second you stop paying for them. So, if you want to get the first stage of your sales funnel working on auto-pilot, it is time to invest in some great content marketing efforts.
Content marketing also helps companies build links toward their website, which we all know is the most sought-after currency on the internet. With that in mind, I've here are a couple of different ways you can use content to drive action as part of a sales funnel.
First up is this example from Outdoor Voices, a New York-based apparel brand with a dedicated content site called The Recreationalist: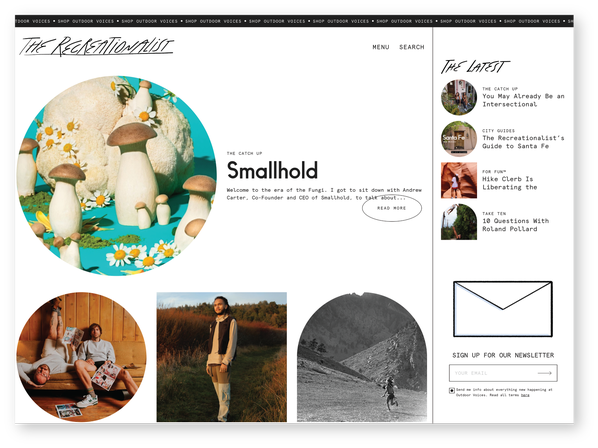 Example 3: Building Brand Awareness Through Content Marketing
Connecting with your audience beyond your brand and product offering can speak volumes to your target audience. Apparel brand "Outdoor Voices" does this exceptionally well with their blog, The Recreationalist, self-described as the "Resource for recreation". The articles touch on community, culture, music, identity, and much more.
The Recreationalist is designed to hit on the interests and cultural aspects of its audience. Things like:
How-To's and DIY's projects

City guides and community interviews

Music inspiration and physical enjoyment
By amplifying this content through email and social media, Outdoor Voices can get in front of prospective customers, answer their questions, and position itself as a brand that cares.
This isn't about a hard sell — it's primarily about raising brand awareness. However, Outdoor Voices naturally encourages readers to move through the funnel by incorporating calls-to-action (CTAs) within the website, like 'Shop Outdoor Voices' banner at the top of the page.
Content marketing is simply using any form of content to connect with your target audience. It can be through video marketing, running a blog, or even hosting a podcast.
Example 4: Targeting Organic Searchers
Now, let's look at another content-based sales funnel example.
In the fashion game, people have a lot of questions. Before you make a purchase, you might want to know what styles are on-trend right now, or how an item fits, or what sort of pants to wear with your new shoes.
As an ecommerce brand, it pays to anticipate and respond to this type of question. Doing this positions you as an expert, with the bonus of getting more eyes on your site and products through organic search.
You can track down those all-important questions using a tool like Answer the Public. For instance, let's say you sell women's footwear. One of your hottest product categories is "strappy heels." Answer the Public tells us what people are searching for around those products.
There are lots of examples here that we can target through content. In fact, any one of those could be a blog title. One brand that's realized this is Public Desire, which has written a blog dedicated to tying strappy heels.
This approach works out pretty well for Public Desire because that blog is right up there as the #1 organic listing on Google, beneath only the paid ads and a featured snippet: 
Example 4: Targeting Organic Searchers
You can use tools like "Answer the Public" to find out what people are searching for around specific products. Creating content marketing based on product-related searches can build trust while also boosting SEO.
This positions the brand to capture a ton of organic traffic at the top of the funnel. Then it can compel those searchers to explore the rest of the Public Desire site and hand over their email addresses through intelligent use of CTAs.
If you are new to effective digital marketing strategies, investing in a good digital marketing course could be a helpful start, but taking the time to start is most important.
Blogging is an increasingly popular marketing tactic among brands in pretty much every industry at this point. Even law firms like Rosenbaum & Rosenbaum and Lavent Law have dedicated blogs on their websites that help them target highly competitive keywords. 
Taking a look at their blog categories itself is enough to realize how vital their blog is in targeting (and ranking) for the right keywords.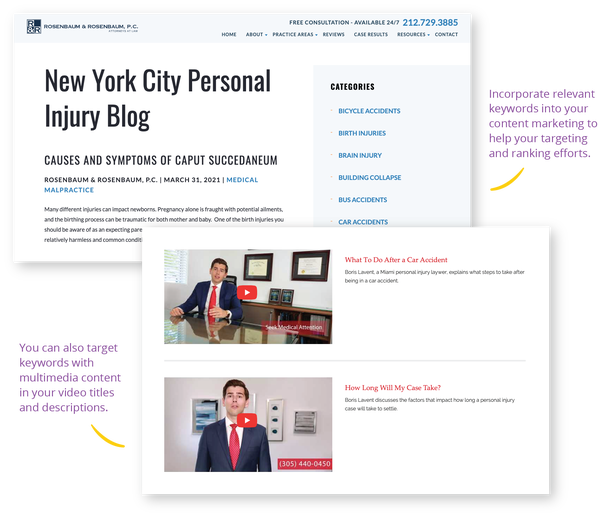 Levant Law even targets keywords by uploading relevant videos to the website, which target a whole new audience (an audience that prefers video over text).
SEO is becoming so crucial for every industry that there are even companies that specialize in SEO for lawyers or SEO for real estate agents.
Blogs allow brands to connect with their target audience and guide them through the sales funnel, which is why they're so effective whether you are a dentist, lawyer, or finance blog.
Example 5: Prompting Action With Email Marketing
Email is more valuable than ever. According to the most recent Campaign Monitor figures, email marketing generated an average return on investment of $42 for every dollar spent in 2019, up from $38 in 2018.
Given those sorts of statistics, it's hardly surprising that 81% of small and medium businesses see email as their go-to customer acquisition channel, while 80% rely on it for retention.
ASOS isn't a small business, but it clearly understands the impact of effective email marketing campaigns in ecommerce. Once you have your new prospects' attention (or awareness), email marketing will help you get them interested in your brand and understand their needs.
It sends regular emails to subscribers, each focused around a distinct theme and accompanied by an eye-catching subject line. As you can see, every subject contains at least one emoji — and sometimes as many as four: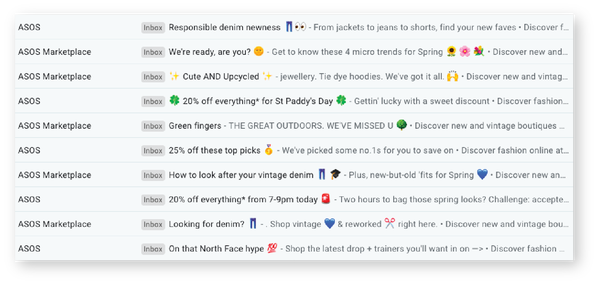 ASOS does this for a reason. One study revealed that subject lines with emojis see 56% higher open rates than those without. Email with gifs, infographics, emojis, and images simply performs better.
This effective combination of words and visuals continues once you click through to an email. ASOS uses short copy sections to break up the imagery and compel readers to click through to its site.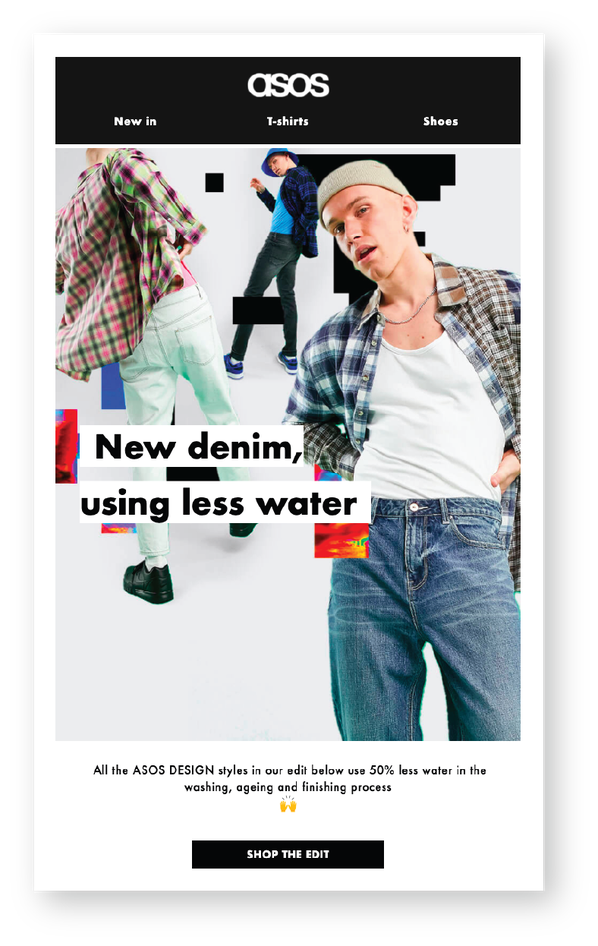 Example 5: Prompting Action with Email Marketing
You can reach your customers in the Interest stage by grabbing their attention with clever email marketing.
Example 6: Boosting Sales Through Persuasive Product Pages
You've brought in a bunch of traffic to your site through intelligent keyword targeting or compelling ads. Now it's time to close the deal! However, there's still a lot that can go wrong at this sales funnel stage (the purchase stage).
If customers can't find the information they're looking for on your product pages, they're not just going to take the risk and buy regardless — they'll bounce straight off (most likely to one of your competitors).
That's why it pays to build detailed, engaging product pages as Baggu has done here: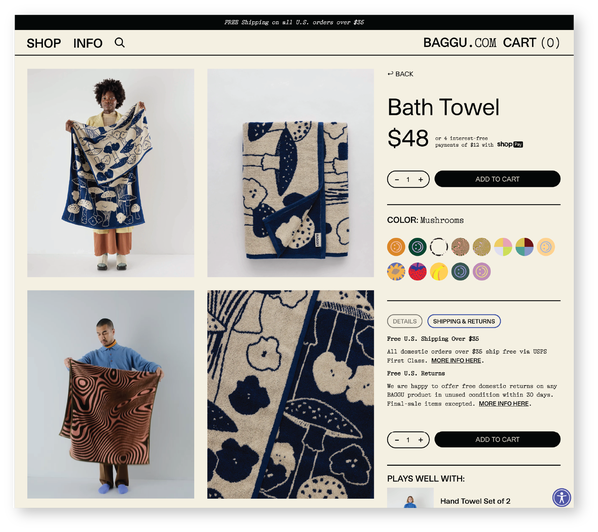 Example 6: Boost Sales Through Persuasive Product Images
Make it easy for your customers to find and buy what they're looking for with robust product pages. Baggu achieves this with eye-catching product images, detailed shipping and return information, and easy-to-find "Add to Cart" buttons.
That's not the whole page — there's a lot more information to be found below the fold — but just on that one screen, we can see:
Clear product photography and pricing

Important shipping information

Easy-to-navigate buttons to make shopping easy
That bath towel may not be a high-value product, but Baggu clearly understands that every sale counts, and it goes out of its way to provide shoppers with every single detail they could need to convert here and now.
Example 7: Personalizing the Path to Conversion
It's no surprise that Amazon is good at ecommerce. Part of Amazon's success stems from its ability to direct customers to the types of products they're most likely to purchase: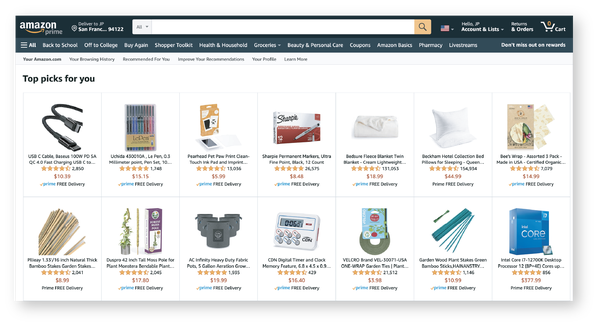 Example 7: Personalizing the Path to Conversion
Address your customers in the Consideration stage by offering relevant products they're likely to purchase again.
Once you are past the interest stage and know your customers' needs, it is time to offer them the right solutions (consideration stage). 
Amazon's recommendations engine is powered by machine learning and is based on what's known as item-to-item collaborative filtering. In layman's terms, that means Amazon takes a look at your recent purchases and creates a tailored list of related items.
The result? When you land on the Amazon homepage, you're immediately shown the most relevant types of product, factoring in things like:
Personal preferences: If you love a specific brand or style of product, Amazon will remember.

Timing recommendations: Do you tend to buy a particular product at regular intervals? Once that time comes around, Amazon will recommend you repurchase it.

Different users: If your Amazon account has multiple users, Amazon will recognize this and target each user with the most relevant content for them.
Example 8: Using Live Demos to Boost Conversions
Once you have got your ideal buyer to come across your landing page, whether through a great blog post or an ad on social media, the next step is to help them understand why they need your product and what your product can do for them (interest stage). 
In many cases, especially when your product is a software of some kind, it can be hard to explain to users exactly why your product can help them.
In these cases, live demos can be helpful tools to help the potential customer through the decision phase of the sales funnel.
One of the brands that have successfully employed the live demo within their sales funnel would be Nectar, an employee recognition software that helps companies maintain company culture and boost morale by managing a rewards program and appreciating their employees.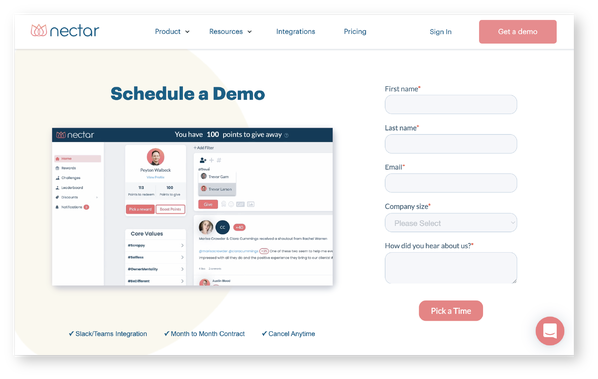 Example 8: Using Live Demos to Boost Conversions
Fast-track your customers in the Interest stage to the Purchase stage with live demos. If your product is software, a live demo is a great way to show what your product can do. Remember to make that "Get a Demo" button stand out!
Once you click the "Get a demo" button on the homepage, a sidebar with available dates will let you finalize the date of your live demo.
You will then receive email follow-ups on the day of the demo (and before) to confirm the timing. 
Suppose you cannot afford the resources to have multiple live demos throughout the week. In that case, you could alternatively invest in an excellent live chat plugin that will allow your prospects to ask your team questions about the product. This alternative could work great if you cannot have demos regularly or can only have them once in a while when a team member is available. 
Wrapping It Up
There's no such thing as the perfect ecommerce sales funnel. Instead, your funnels will vary based on the types of people you're targeting and the products you sell.
If you're selling expensive, complex tech products, you'll probably struggle to convert customers through a single ad and landing page combo — you need to look at the bigger picture.
On the flip side, if you sell low-cost, low-margin products that require little or no explanation, your path to purchase should be built for speed and efficiency.
Hopefully, with these seven sales funnel examples, you'll find something that works for you.

Last updated on October 28th, 2022.