Calculating Budgets Made Easy: Introducing Our New Return on Ad Spend (ROAS) Calculator
Topics Covered:
How large should your display budgets be? How should you allocate funds between different audiences? What can you expect in returns for your advertising dollars? 
Digital advertising performance benchmarks vary significantly by industry, so marketers should set their expectations accordingly. Drawing upon our experience (and data!) working with over 120,000 brands since 2006, we created this ROAS calculator to help you plan your advertising budget and get a handle on expected returns. Your expected return on ad spend will be based on your marketing goals like driving new high-quality traffic to your website or converting more website visitors into customers. 
AdRoll's ROAS calculator will estimate what would happen when you allocate budget towards these goals, including attributed revenue, audience reach, new visitors driven, and clicks.

How Does It Work?
When using the calculator, you'll be asked for a few quick details about your business, including your:
Industry
Monthly website visitor count
Monthly order count (where an order can be a sale, lead, registration, etc. based on what you consider to be your most valuable conversion)
Estimated average order value
With this information, we'll be able to calculate, based on our up-to-date industry benchmark data, what you should invest in digital advertising to make the maximum impact on growth. The output of the Budget Calculator provides you with a recommended total monthly digital advertising budget broken out by dollars allocated to converting existing site visitors and to bringing in new site visitors.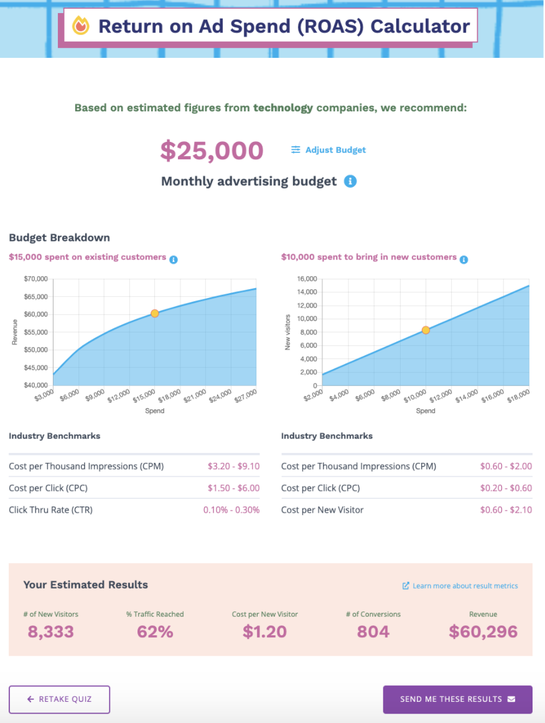 You may be asking yourself, "What about other inputs like company size — is this adjusted for companies larger/smaller?" Good question! We didn't factor this in because your industry, site traffic, order value, and conversion rate data is more predictive of performance than company size.
The calculator results also display graphs that show how marginal returns change as you reduce or increase spend for a particular goal. For example, the slope of the "Existing Customers" graph tapers with the more money that you spend: the thousandth dollar that you spend will drive a higher ROI than the millionth dollar. On the other hand, in the "New Customers" graph, you'll see that there are no such diminishing returns since your potential pool of visitors is practically limitless. 
When you're finished, it takes just a few clicks to either adjust or export the generated information.
So Where Do the Recommendations Come From?
The recommended budgets on existing visitors versus new visitors are attributed to algorithms and playbooks developed by our in-house marketing data science team based on a decade of optimizing marketing campaigns for e-commerce brands.
We take the visitors you input, and we take a % that's realistic to spend responsibly. Most existing calculators don't make any distinction between new and old visitors. The value is in the volume of potential new customers you bring to your site versus the customers you can count on. Our calculator tells you what you're getting in return from that spend.
A Solid Starting Point
The estimates are only as good as the inputs it uses — your results may differ in the real world due to performance goals, campaign set up, and seasonal fluctuations in site traffic. 
Summing up, the provided numbers should give you a solid starting point on how to set your budgets and the returns you should expect. Feel free to reach out to learn more on how you could leverage our insights for your business, whether it be regarding campaign attribution, execution, or reporting. 
Give our calculator a spin and let us know what you think!
[amp-cta id="6915"]
Last updated on November 4th, 2022.