Drive conversions across channels
AdRoll's multi-channel marketing software plays a critical role in the overall success of your campaigns— enabling you to more effectively budget, analyze, and adapt all campaigns at once based on shared marketing goals. Unlike multi-channel marketing companies that manage campaigns and ads individually, AdRoll unifies your marketing efforts into a single cross-channel marketing platform that automatically adjusts bids for all channels to meet your overall budget goal and conversion goals.
Get Started
Customize your marketing goals
Our multi-channel marketing system enables you to personalize your goals and advertising plan. Performance is measured based on the goal you set, and you can change how much you want to spend, where and when to run your campaign, and what goals to optimize for, all within our user-friendly cross-channel marketing platform.
Automate bidding to optimize ROI
Set your goals and relax while AdRoll takes care of the rest. Our multi-channel marketing analytics technology uses the power of AI to optimize bidding across marketing channels automatically. AdRoll bidding technology, BidIQ, prioritizes campaigns and channels that lead to better and faster conversions. Our transparent platform shows you exactly how your campaigns perform. You can see our technology at work within your dashboard, as the individual budget levels of each campaign change day-to-day to optimize ROI.
Enhance campaign performance
AdRoll's proprietary technology is highly intelligent and learns continuously from the purchasing behaviors of over a billion online shoppers. So, you can count on our multi-channel marketing tools to enhance the performance of your campaigns. Our platform can provide guidance when determining the appropriate ad spend for your audience by combining our robust database with specific customer behavior from your website. Our cross-channel marketing platform can also customize ad content for your website visitors to increase engagement and encourage conversions.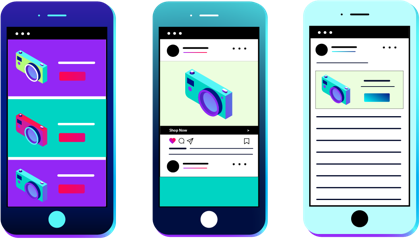 Attract consumers on Facebook, Instagram, display and more
AdRoll Attract uses act-alike models to engage with new consumers on Facebook, Instagram, and across the web. By targeting shoppers who are similar to your ideal customers, our multi-channel marketing system can zero in on prospects that are most likely to convert and earn you meaningful revenue.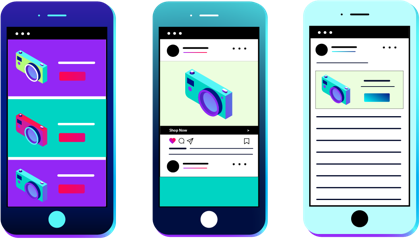 Retarget website visitors with dynamic ads
After visitors leave your site, AdRoll Convert retargets them on their favorite sites, and across all devices. Our multi-channel marketing tools use the power of dynamic ads to encourage conversion by automatically customizing the ad content based on the person's browsing behavior.
AdRoll multi-channel marketing software tracks how visitors engage with your site to learn what products appeal to them the most. The dynamic ads then show consumers the products that they are most likely to be interested in, including items they recently viewed, recommended products that are similar to those they like, and top-selling products.
Dynamic ads have a 2x higher click rate and 50% lower cost-per-acquisition (CPA) as compared to static ads. And one of the best parts is that AdRoll multi-channel marketing analytics does all of this work on its own, successfully re-engaging visitors while you focus on other important work, or take a well-deserved rest day.
Extend conversion campaigns to email
When we say multi-channel, we mean it. We don't stop at web and social like a lot of other multi-channel marketing companies. AdRoll matches visitors on your site with the emails that they enter, so you can continue targeting them by sending AdRoll Convert campaigns directly to their inboxes.
Our multi-channel marketing software integrates with the most popular email service providers so you can use your existing templates, auto-sync unsubscribed emails, and add emails you've collected before. Our integration partners include MailChimp, Constant Contact, Campaign Monitor, and Klaviyo.