Case Study | Industry: B2C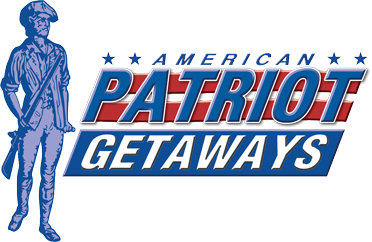 Capabilities Used: AdRoll Attract, AdRoll Convert
Cost per Acquisition (CPA)
---
"Before AdRoll we were using Google retargeting, and while we definitely got impressions, we didn't get many conversions . . . [AdRoll's account management] makes it easy for us to be effective."
—Adam Montgomery
IT director at American Patriot Getaways
---
The right place for more revenue
Google retargeting was delivering the visitors that vacation rental company American Patriot Getaways needed, but not the revenue. They were looking for a new platform, but with a marketing team of two people, it needed to be quick to use while still increasing performance.
Filling cabins with a full-funnel solution
American Patriot Getaways was looking for a new performance marketing platform.
"We were using Google retargeting, and while we definitely got impressions, we didn't get many conversions," said IT director Adam Montgomery.
They decided to try AdRoll's full-funnel platform, using AdRoll Attract to build awareness and AdRoll Convert to convert customers.
"Our goal is always to fill cabins," said Montgomery. "AdRoll allows us to easily bring customers in the door." After three months, the company was hitting their conversion goals, bringing their cost per acquisition (CPA) from $15 to below $10 with an ROI of more than 100x.
Booking success with AdRoll account management
With a marketing team of two people, American Patriot Getaways didn't necessarily have the bandwidth to master the ins and outs of a new platform. But with a free dedicated account manager*, the team could rely on AdRoll to enhance performance.
"I love [AdRoll] account management," Montgomery said. "[My account manager] asks some questions about what we want to achieve—then makes it happen."
Their account manager restructured their web and social retargeting campaigns, assisted in ad revisions, and drove high-quality traffic through AdRoll Attract.
"I really appreciate AdRoll's account management," said Montgomery. "They make it easy for us to be effective."
About American Patriot Getaways
American Patriot Getaways delivers the Smoky Mountain getaway of a lifetime through cabin rentals with amenities hotels can't offer. Since 2000, their dedicated staff has been "creating guests for life" by matching vacationers with a perfect Smoky Mountain experience. Learn more at www.patriotgetaways.com.
* Free dedicated account management comes with accounts spending more than $1,000/month.