High-Performance
E-Commerce Marketing Software
We believe that actionable data and smart strategy drive high-performance marketing. It's why we developed AdRoll's e-commerce marketing platform, AI-driven technology that constantly learns from the most up-to-date consumer behavior information. Our technology continually analyzes the purchasing behaviors of 1.2 billion online shoppers to help you design e-commerce marketing campaigns that will outperform your competition.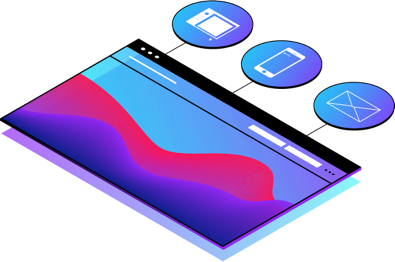 Superior Quality, Accuracy, and Engagement
When it comes to e-commerce success, there are a few necessary ingredients for a campaign that converts: quality ads, accurate targeting, follow-through, and personalized experiences. AdRoll delivers value across the board. The average company using our e-commerce marketing platform earns 5x Return on Ad Spend (ROAS).
High-Quality Advertising for all Channels
Creating quality advertisements is easy with AdRoll. Our team works with you to create image, native, and engaging ads that will attract the attention of your audience. We also produce them in a wide variety of sizes for use all over web and social, and in email campaigns. Once the AdRoll e-commerce marketing platform is stocked with eye-catching ads, you can launch campaigns everywhere your audience spends time, from Facebook and Instagram to sites & ad networks like Google, Yahoo, ESPN, CNN, BBC, Forbes, and more.
Native & Dynamic Ads That Boost Results
Among our e-commerce ad software tools, brands find Native ads are especially effective because they appear more like recommended posts than sales-y advertisements, and typically lead to higher engagement. Dynamic ads that are focused on retargeting site visitors are also essential components of any high-growth e-commerce strategy.
Precise Targeting & Personalized Engagement
AdRoll stands out among the best e-commerce marketing companies because our platform uses real consumer behavior to improve the performance of your campaign. Our e-commerce marketing intelligence technology dives into the specific browsing behaviors of your actual site visitors to learn how to appeal to their unique tastes and preferences.
Visitors who leave your site without purchasing will become targets of AdRoll Convert, our retargeting program. Our e-commerce marketing software uses dynamic ads on all devices, to remind visitors of items they liked, recommend similar products, and showcase popular designs. By continuing to stay present in the mind of your visitor, and teasing items that we know they are interested in, AdRoll's e-commerce ad software substantially increases your conversion rates.
Start growing with AdRoll today
Our customers average 5x return on ad spend. Don't miss out
Get Started